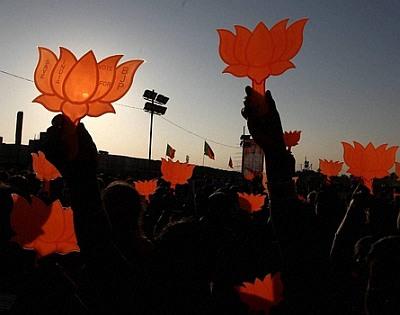 The hunt is on for a dynamic, young leader to take over the reins of the Bharatiya Janata Party in Uttar Pradesh, which is headed for elections in 2017. And BJP chief Amit Shah has 6 probables for the coveted post.

Sharat Pradhan / Rediff.com reports

With the party leadership having entrusted a key state like Maharashtra in the hands of Gen Next, the Bharatiya Janata Party is currently busy scanning the dossiers of several Uttar Pradesh leaders so that it could zero in on a youth who could be groomed as the party's potential chief minister when the state assembly goes to polls in 2017.
BJP president Amit Shah is understood to have constituted an unofficial panel of six leaders from whom he proposes to handpick one to don the mantle as UP's future 'Devendra Fadnavis' (who was sworn in as Maharashtra chief minister on October 31).
Each of these six leaders has been currently entrusted with a responsibility as in-charge of difference states. Their performance has been put under Shah's personal scanner, which will eventually determine the winner of the race for the UP top slot, sources told rediff.com
On top of the list is Dinesh Sharma, Lucknow University commerce professor turned city Mayor, who has been named in-charge of Gujarat.
Others include Siddharth Nath Singh (West Bengal), Arun Singh (Odhisa), Srikant Sharma (Himachal), Mahendra Singh (Assam) and Ram Shankar Katheria (Punjab and Chattisgarh).
Dinesh Sharma is rated as the front-runner not only because of his closer proximity to Amit Shah, Prime Minister Narendra Modi as well as the Rashtriya Swayamsevak Sangh, but also because of his clean and non-controversial image.
It was, therefore, no surprise that he was named BJP's national vice president after Shah assumed the president's post.
Sharma has proved his skills as a campaigner in the recently-concluded Maharashtra assembly election.
The space for leadership in UP was created following the elevation of older leaders to prominent positions at the national level, including the Union cabinet.
While veterans like Kalyan Singh and Keshri Nath Tripathi were adjusted as governors in Rajasthan and West Bengal respectively and Lalji Tandon's son Ashutosh, who was awarded a BJP ticket in the recent by-elections as a quid pro quo against another governor's slot Kalraj Misra, managed a berth in Modi's council of ministers.
As for Rajnath Singh, he had long past graduated from the state to the pinnacle of national politics and eventually into the Home Minister's office.
Two other young leaders -- Rajnath's son Pankaj and Maneka Gandhi's son Varun -- who were also aspirants for the top slot in UP unit of BJP, have for one reason or the other been swept away from the race.
A soft-spoken and well-groomed Pankaj had earned much goodwill during the Lok Sabha election when he was handling his father's campaign in Lucknow. However, it is said that his popularity became an eyesore for a lobby within the BJP which got down to a smear campaign, compelling Pankaj to ease himself out of the race.
On the other hand, Varun turned insolent and went to the extent of objecting to raising the pro-Narendra Modi slogans during his own campaign in Sultanpur from where he won the election.
To make matters worse, his mother Maneka went to the extent of blatantly pushing his case as UP's potential chief ministerial nominee.
While the present state chief Laxmikant Bajpai is rated well, and enjoys goodwill with the top party leadership, he is not seen as a potential chief ministerial nominee.
A switch to the young guard is expected to also bring to an end the factional politics, which had plagued the party in the country's most populous state for more than a decade.