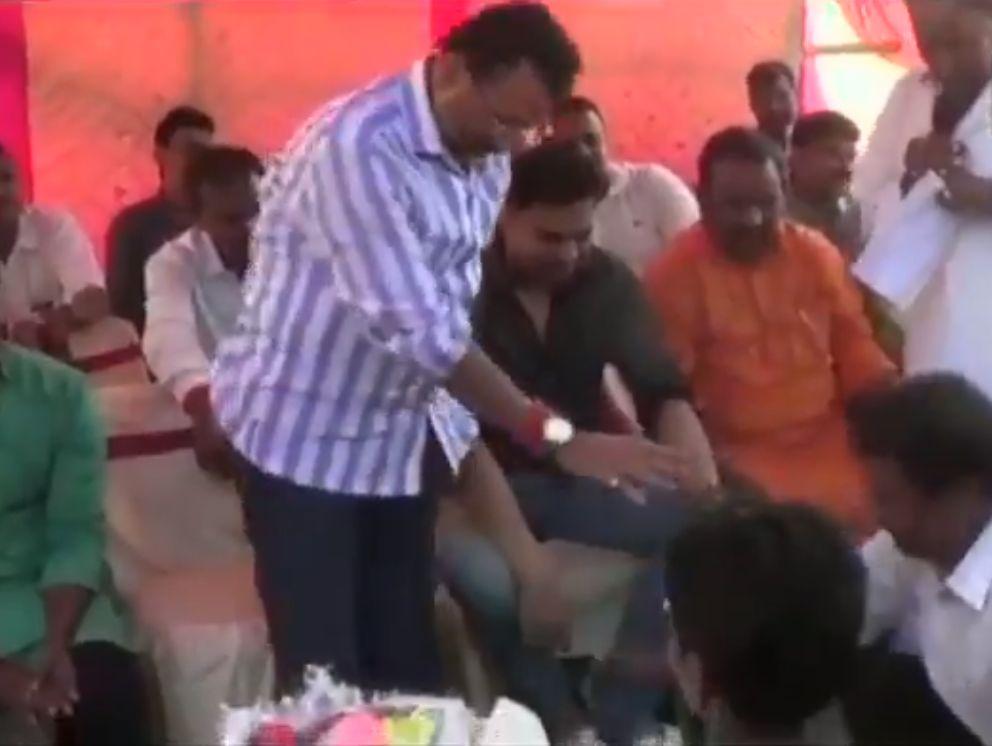 Bhartiya Janata Party member of Parliament Nishikant Dubey found himself at the centre of controversy on Monday after a video surfaced showing a party worker washing the MP's feet and drinking the water thereafter.
The incident took place on Sunday when the MP from Jharkhand's Godda visited Kanhavara village of his constituency to announce the construction of a bridge.
Onlookers filmed the episode, which was also shared by Dubey on his Facebook page. However, he later deleted it.
In the video, BJP worker named Pawan can be seen washing Dubey's feet and drinking the water used for the purpose.
The Congress party launched a scathing attack on Dubey of letting the party worker do that.
Congress spokesperson Randeep Surjewala demanded action against Dubey and said, "The arrogance of the ilk of BJP leaders like Nishikant Dubey who are habitual offenders of insulting others, of breaking the tradition and of self-prophesying a God-like status for themselves, is now out in open."
WATCH: BJP worker washes feet of party MP Nishikant Dubey and drinks that water
"Has the arrogance of BJP leaders reached such a zenith that now they want their karyakartas and common people to wash their feet and drink that water? Is it even humane in the 21st century?" he added.
Raising question over the culture and ethics of the BJP, Surjewala said, "Is this the culture and ethics of the BJP that Prime Minister Narendra Modi and BJP president Amit Shah speak about? Will they take action against Dubey.
"If they will not take action then it will be proved that it is with active support and connivance of Prime Minister and BJP president that such elements like Nishikant Dubey continue to profess inhumane and insulting practices in today's world."
Earlier in July, Dubey grabbed headlines after he said that his party members fear that hugging Congress president Rahul Gandhi might lead to divorce.