A Bharatiya Janata Party member in Lok Sabha on Friday demanded a privilege motion against Congress leader Rahul Gandhi for his purported remarks describing Pragya Thakur as a terrorist.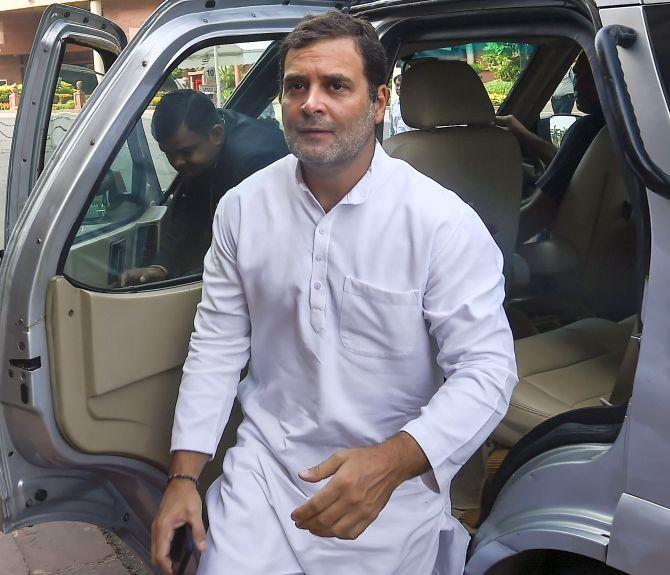 When Congress members were seeking an unconditional apology from Thakur, Nishikant Dubey urged the speaker to allow a privilege motion against Rahul Gandhi for allegedly dubbing a sitting MP as a terrorist.
Dubey said the speaker is the custodian of the law and should ensure the dignity of members of the House.
Earlier speaking during Zero Hour amid sloganeering by Congress members against the controversial comments on Nathuram Godse by its MP Pragya.
Citing an editorial in Saamna, the mouth piece of Shiv Sena, Dubey claimed the Maharashtra-based party, which has recently formed a coalition government with the Congress in the state, had hailed Godse as a patriot.
This shows double standards of the Congress, he said.
Meanwhile, Rahul Gandhi said he stood by his remarks on Twitter terming Pragya Thakur a "terrorist" and was ready to face any action.
He also claimed that Thakur believes in violence, the way Nathuram Godse did.
"Yes, I stand by my statement. What I have written on Twitter, I stand by it. Yes," he told reporters when asked if he stood by his statement calling Thakur a "terrorist".
Asked about BJP calling for action against him for his remarks, Gandhi said, "That's ok. There's no problem. Whatever they want to do, I'll welcome."
The Congress leader said what Thakur says what she believes in.
"I don't agree with her, but she believes in it," Gandhi said.
Godse also used violence and she also believes in violence, he said.
Gandhi hit out at Thakur over her remarks on Godse and said she has displayed the heart of the BJP and the RSS, and it cannot be hidden.
"Terrorist Pragya calls terrorist Godse, a patriot. A sad day, in the history of India's Parliament," Gandhi had said on Twitter.
Reacting to Pragya's praise of Godse in Parliament on Wednesday, he said, "What she is saying that is the heart of the RSS and BJP, what can I say? It cannot be hidden. I don't need to waste my time demanding action against that woman."