Bharatiya Janata Party MLA Suvendu Adhikari and Congress leader Kaustav Bagchi on Wednesday participated in a protest rally of aspiring candidates for school jobs in West Bengal, triggering accusations from the ruling Trinamool Congress of a 'covert alliance' among the Communist Party of India-Marxist, the Congress, and the saffron camp in the state.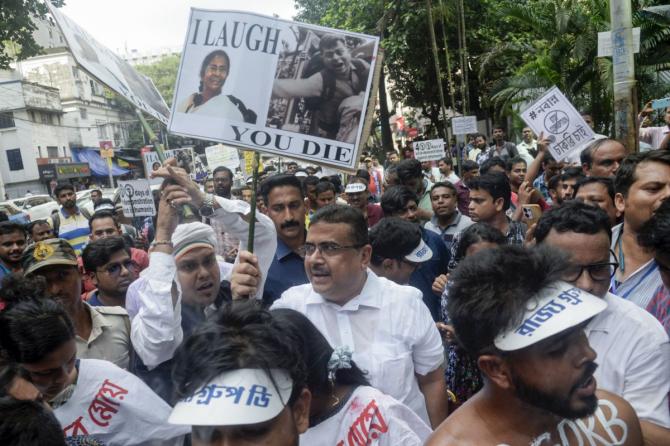 The demonstration was held by the protesting school job aspirants at Camac Street in South Kolkata, where TMC national general secretary Abhishek Banerjee's office is located.
"The school job aspirants, who are suffering due to the corruption of the TMC government, have organised a protest rally and have invited me to participate in it as the leader of the opposition in the assembly. What is the harm if Kaustav Bagchi also joins the protest?" Adhikari told reporters.
He also said that anyone who wants to fight against TMC's 'misrule and corruption' is welcome to join such a demonstration.
Regarding his participation in the programme, Bagchi said, "He has no problem taking part in any rally or programme against the corrupt TMC. I have no qualms in walking with Suvendu Adhikari against the TMC government."
Along with posters against the TMC, placards of the INDIA alliance were also seen at the rally.
"We have kept the placards of INDIA alliance as we want the members of INDIA opposition alliance to know about the corruption happening in Bengal," a protester said.
The TMC, the Congress and the CPI-M are part of the INDIA alliance to fight against the BJP at the national level.
Reacting to the development, TMC spokesperson Kunal Ghosh said BJP and Congress leaders' jointly participating in a rally only reflects the tacit understanding among them.
"If Suvendu Adhikari and Kaustav Bagchi participate in a rally together, it will not yield any result. Both are losers as politicians in Bengal. But it is for the Congress to answer whether they support the BJP in Bengal or not," he said.
State Congress president Adhir Ranjan Chowdhury declined to attach much importance and said, "Kaustav Bagchi must have gone there in personal capacity and not as Congress leader."
"The TMC doesn't need to lecture us on how to fight the BJP. But fighting against the saffron camp doesn't mean that we will turn a blind eye to the corruption of the TMC in Bengal," he said.
Senior TMC leader and former state education minister Partha Chatterjee, who was arrested by the Enforcement Directorate (ED) for alleged involvement in the school jobs scam in July last year, is in CBI custody in the same case.