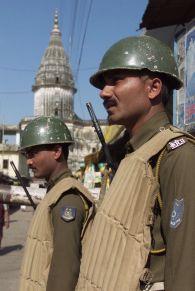 Bharatiya Janata Party General Secretary Amit Shah's visit to the make-shift Ram temple at Ayodhya and his announcement that a grand temple should be built there drew sharp reactions from other parties which accused the main opposition of raking up the issue for electoral gains.
"They have raised this issue not once but several times. When they were in government why did they not raise it? Secondly, we should not say things about which we have no right. The matter is in the Supreme Court and only when there is an order from it, can anybody move forward," Minister of External Affairs Salman Khurshid told reporters.
He maintained that times have changed and people are not so naive and will not be waylaid by such issues.
UP Congress spokesman Zeeshan Haider said in Lucknow that there was an attempt to polarise voters before the elections. He also alleged that Shah's remarks on Ram temple were tantamount to contempt of the Supreme Court.
Janata Dal-United president Sharad Yadav said when his party was a part of the NDA, they were clear that the Ayodhya temple issue can be resolved only after the courts give a verdict or through talks between both the communities. "Other than this there is no third way out," he said.
Communist Party of India leader D Raja said BJP is "reviving" its Hindutva ideology and politics. "It is open now that RSS is dictating policies to the BJP. It is very clear. BJP is bound to revive its Hindutva politics," he said.
Information and Broadcasting Minister Manish Tewari said it is odd that just one year before the polls BJP starts remembering Lord Ram and when the polls are over, they forget.
"The BJP's nature is that of Ravan. If it frees itself of this, it will be able to see Lord Ram," Tewari said.
The Samajwadi Party warned against "outsiders" trying to spoil the communal amity in Uttar Pradesh after Shah, a close aide of Gujarat Chief Minister Narendra Modi, visited Ayodhya.
"There is an urgent need to keep a close eye on those who have come from outside to spoil communal brotherhood in the state before the Lok Sabha elections " state unit spokesman of Samajwadi Party Rajendra Chaudhary said.
In a dig at Shah, he said that "those who are not aware of the culture and heritage of the state have taken up the assignment to exploit the sentiments of voters and Samawjadi Party believes that Congress is also lending them support in an indirect manner."
Image: Reuters