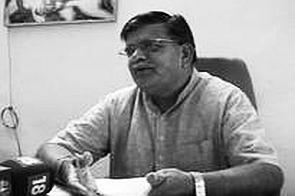 A special Central Bureau of Investigation court in Mumbai on Friday granted anticipatory bail to former Rajasthan Home Minister Gulabchand Kataria and three others who were charge sheeted in the Sohrabuddin Sheikh fake encounter killing case.
Besides Kataria, director of R K Marble, Vimal Patni, Andra Pradesh cadre Indian Police Service officer N Balasubraminiam and inspector Shrinivas Rao were also granted pre-arrest bail on the bond of Rs 50,000.
Kataria and others sought anticipatory bail after the CBI had filed a charge sheet against them on May 14. Sohrabuddin Sheikh and his wife Kauser Bi were allegedly abducted by Gujarat's Anti-Terrorism Squad from Hyderabad and killed in a fake encounter near Gandhinagar in November 2005. Tulsiram Prajapati, a key witness to the encounter, was allegedly killed by police at Chapri village in Banaskantha district in December 2006.
According to the charge sheet, Sheikh had demanded Rs 24 crore from Patni as "protection money" and this was the prime reason why he was eliminated. The CBI had earlier said Sheikh wanted to spread his extortion racket in Rajasthan and in order to get a good hold over the state, he demanded money.
According to the CBI, Kataria was the link between Patni and former Gujarat minister Amit Shah and Patni was introduced to Shah by Kataria. Shah was the minister of state for home in the Narendra Modi cabinet at that time.
The CBI had alleged Shah was the "kingpin" of the conspiracy in the encounter episode, in which most of the accused are policemen, some of them IPS officers. Shah was arrested in July 2010, but released on bail after spending three months in jail. In September 2012, the apex court permitted Shah to enter Gujarat in view of the assembly elections that were to be held in December, which Shah contested and won.
The CBI further said that after coming in contact with Patni, Shah planned the entire encounter operation with the help of Gujarat police.
The Supreme Court had also ordered the transfer of the trial of the case to Maharashtra after CBI said witnesses were being intimidated and the trial could not be held in a free and fair manner in Gujarat.