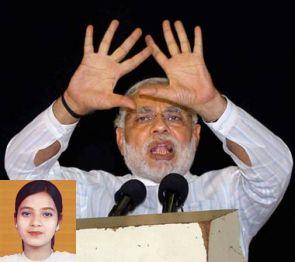 The Central Bureau of Investigation has found that 19-year-old Ishrat Jahan and her accomplices were killed in cold blood so that the Gujarat Police could show a major hit.

The agency, however, seems to have given reprieve to Gujarat Chief Minister Narendra Modi and Bharatiya Janata Party General Secretary Amit Shah in the controversial case.
The Ishrat Jahan case chargesheet -- slated to be filed by the CBI in the Gujarat high court on Thursday -- finds no mention of either Modi, Shah or Intelligence Bureau special director Rajinder Kumar.
The CBI has found no evidence against the trio, but will seek an option to file a supplementary chargesheet if needed.

In its chargesheet, the CBI constructs the conspiracy theory that the fake encounter was the handiwork of the Gujarat police, which carried out the operation based on an IB input.

However, there is nothing for now to show that the IB official was part of the conspiracy.
CBI sources say that the agency has been forced to submit the chargesheet due to time contraints.

"We will keep the option of an additional chargesheet open, as there is more to probe. However, for now, we have named the officers from the state police and managed to prove that the encounter was fake," sources said.
Meanwhile, the Union home ministry is studying the case regarding Modi, Shah and Kumar. The home ministry has clearly stated that what needed to be probed is whether the encounter was fake or not.

The CBI was entrusted with the investigations of the case by the Gujarat high court and the agency managed to get one of the accused as an approver in the case, who named Kumar, a 1979 batch IPS officer posted as joint director of the Intelligence Bureau in Ahmedabad at that time.

A CBI official said, "An IB officer will give inputs, but he is not the one who operationalises it. It would not be fair to name an officer just for providing an input. Had the officer not provided the input and something had gone wrong then he could have been liable for the security lapse."