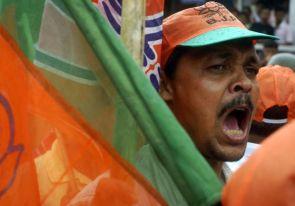 The Bharatiya Janata Party on Friday criticised Uttar Pradesh government for withdrawing sedition charges against Kashmiri students studying at a private university, saying the Samajwadi Party government is only bothered about its vote bank.
"BJP will not tolerate withdrawal of sedition charges against the people who have insulted the nation. The Samajwadi government is bothered only about its vote bank and not about the country," Laxmikant Bajpai, president of BJP's Uttar Pradesh unit said.
Alleging that the sedition charges against the Kashmiri students have been withdrawn by the police on the state government's instructions, Bajpai said," BJP will meet the Union Home Minister in connection with this issue and will demand a CBI probe into it."
However, SSP (Meerut) Omkar Singh has confirmed that the sedition charges against the students have been withdrawn but investigation on charges of vandalisation and creating a ruckus is still on.
Around 60 Kashmiri students at Swami Vivekananda Subharti University in Meerut were expelled for three days from the hostel after they had allegedly supported Pakistan cricket team against India in the Asia Cup match between the two sides on Sunday last, an action that sparked an outrage in Kashmir Valley.
Yesterday, the Uttar Pradesh police slapped sedition charges against the students, a move that was slammed by Jammu and Kashmir Chief Minister Omar Abdullah, who called the action an "unacceptably harsh punishment" and spoke to UP Chief Minister Akhilesh Yadav in this regard.
The sedition charges against the students were withdrawn were withdrawn later.
Image used for representation purpose only