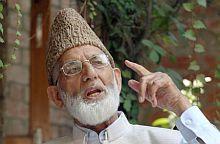 Hardliner separatist leader Syed Ali Shah Geelani is caught in a piquant situation of being expelled from the Jamaat-e-Islami in Jammu and Kashmir, of which he has been a founding member and its leading light.
The trouble for Geelani began with the release of his biography "Quaid-e-Inquilab-A history, a movement" written by Dr Shafi Shariati.
The book wholly dedicated to the life and times of Geelani is highly critical of JeI at places, branding its leadership as 'working against the political aspirations of Kashmir.'
The pejorative references to the party leadership has not so far been dissociated by either Geelani or his party, 'Tehreek Hurriyat' which has 'added insult to injury of JEI leadership.'
The JEI leadership has taken a serious note of the development and is mulling a severe disciplinary action against Geelani, which may possibly include his expulsion from the party, with which he has remained associated for over four decades.
Geelani has also been responsible not only for nurturing the religio-political party, but guiding it through its periods of crisis spreading its influence in the Kashmir Valley.
"We will issue a show cause notice to Geelani Sahib on his return from New Delhi in next few days," JeI chief spokesman Zahid Ali told rediff.com.
Geelani is presently undergoing treatment in New Delhi after his eye surgery last week.
"In case he doesn't respond, we will consider his expulsion from the party. JeI is a highly disciplined party and does not tolerate any indiscipline,  particularly of this sort, where mud would be slung on the party and its leadership," Zahid said.
He said the JeI has decided to boycott the meetings of the All Parties Hurriyat Conference group headed by Geelani as an initial act of protest.
"Our representative did not attend the APHC meeting last week as a protest."
Jamiatul Mujaheedin, a militant outfit, in a statement termed the JeI reaction to the book as 'uncalled for'.
"People in Kashmir know that it were the ideological differences between Geelani and JeI that he had to form his own party. It had become necessary for Geelani to form his own party to safeguard the pro-freedom sentiment of the people," the statement said.
Image: Syed Ali Shah Geelani