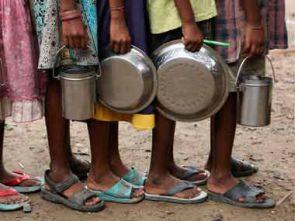 At least two children of a government primary school in Bihar's Saran district died on Tuesday after consuming the mid-day meal. Also, Over 80 children have taken ill fell, an official said.
The incident took place at Dharamsati primary school in Masrakh, Saran.
Saran District Magistrate Abhijit Sinha told rediff.com that two children died after consuming the mid day meal. He said that around eighty children have been admitted to hospital.
Sinha said that it is a matter of inquiry as to how two children died and others fell ill after consuming mid day meal. "It may be a case of contaminated or poisoning of mid day meal, the district authorities will inquire into it," he said.

Angry over the death of two children after consuming mid day meal, hundreds of people took to street to protest against it and ghearoed local police station demanding action against school teacher and officials responsible for it.

In the last few months, there have been reports of lizard, frog and insects found in mid day meal in different parts of the state. Several children have said to have fallen ill after consuming these meals.
Poor quality mid day meals being served in schools is common in the state.