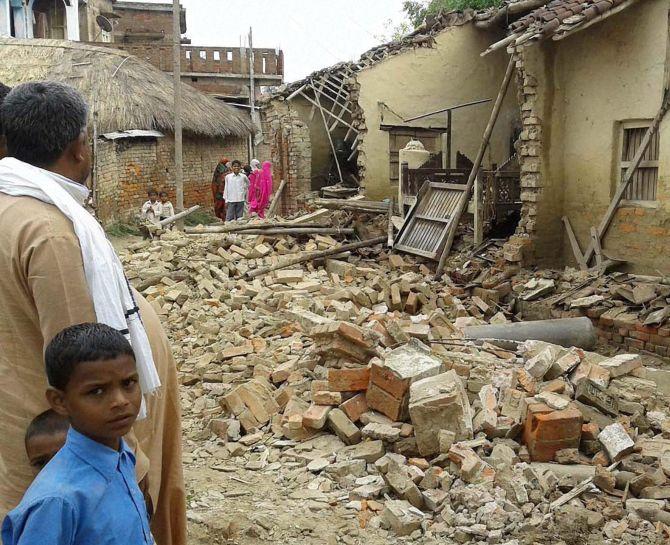 Cracking the whip on erring officials engaged in earthquake and tropical storm relief work, the government has suspended one official, lodged FIRs against some and stopped salary of nearly half-a-dozen others.
During a review of relief work in Purnea district, Energy Secretary Pratyay Amrit, who has been made special officer for monitoring relief work in the district, ordered
suspension of Block Education Officer of Krityanandnagar, Arvind Rajak.
Departmental proceedings have also been initiated against him.
Amrit told reporters on Wednesday night that after detection of irregularities in preparation of list of beneficiaries for government assistance in the natural calamity in the Meenapur panchayat of Baisi block, FIRs have been lodged against officials who conducted the survey.
Likewise, salary of nearly half-a-dozen teachers have been stopped after detection of laxity in discharge of relief duty in Dagarua block of the district, he said.
Show cause notices have been issued against a woman district statistical officer posted at Kasba and her salary has been stopped after she was found absent from duty.
Amrit said any laxity in relief work would not be tolerated and that he had found irregularities in preparation of list of beneficiaries for government assistance in ward number 31 under Purnea Municipal Corporation.
The officer said assessment of loss of crops in the calamity would be completed within two days after which distribution of agricultural input subsidy would be made available to the beneficiaries.
Accompanied by District Magistrate Rajesh Kumar and special DM appointed for the district Manish Kumar Verma, Amrit said 1.10 lakh people have been provided immediate assistance in the form of foodgrain, polythene sheets and Rs 2,000 cash announced for people whose dwellings were damaged in the killer tropical storm on the night of April 21 last.
A total of 54 persons were killed in the nor'wester storm in Bihar with Purnia bearing its brunt with a maximum of 37 deaths.
Prime Minister Narendra Modi had expressed concerns over the tragedy and had spoken to Chief Minister Nitish Kumar. Union Home Minister Rajnath Singh along with Kumar had made an aerial survey of the district on April 24.
Image: Collapsed houses due to the earthquake in Madhubani, Bihar. Photograph: PTI