Overjoyed that their 'son' was sworn into office for the fifth time, villagers of Kalyan Bigha, burst firecrackers and distributed sweets. M I Khan reports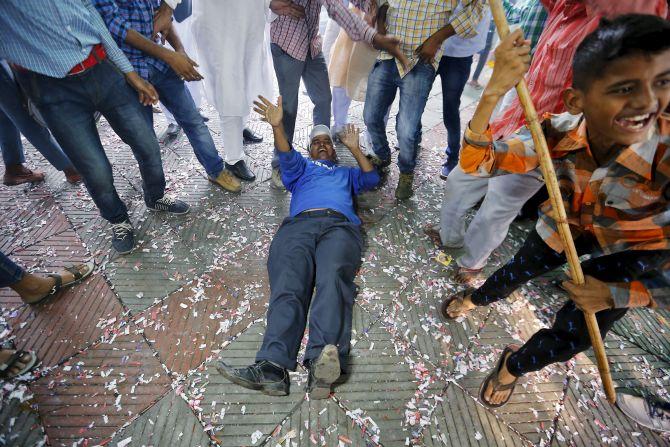 Supporters of Janata Dal-United celebrate after the Bihar poll results showed that the Grand Alliance headed by Nitish Kumar had secured victory. Photograph: Anindito Mukherjee/Reuters
It was a day of merriment, music, colour and joy in Kalyan Bigha, the native village of Bihar Chief Minister Nitish Kumar, as they celebrated his swearing-in ceremony on Friday.
Happy and proud of the fact that their native villager was sworn in as CM for the fifth time, locals of the village applied colour to each other's faces, burst fire-crackers and distributed sweets.
"We played with colours and distributed sweets to express happiness over the fact that a 'son of our village' has become CM again," said Ramesh Kumar, a local.

Another villager, Sohan Prasad, said, "We have celebrated Diwali thrice this year. First, when the Grand Alliance headed by Nitish Kumar trounced the competition and won the assembly polls, then on the day of Diwali itself and the third time was today when Nitish Kumar took the oath of office."

Kalyan Bigha is about 65 kilometres from Patna.

The locals spoke how the village had already improved and developed under Nitish's regime. "This village already has a 20-bed hospital and a school. Besides that, there are pucca roads, constant electricity and water flows through taps from a reservoir," added Dhaneshawar Singh, a third villager.
Singh said that when Nitish Kumar became CM in 2005, they were hopeful of change, but had never expected such level of development. "Thanks to Nitish, Kalyan Bigha has become a developed village."
Most of them added that Nitish Kumar had done a lot for them and hope he would continue to do more in the coming years. "We are sure and certain that Nitish Kumar will develop other villages on the line of Kalyan Bigha."