The Bharatiya Janata Party's vision document for Bihar promises to shower freebies on all sections of society if comes to power. Mayank Mishra & Archis Mohan report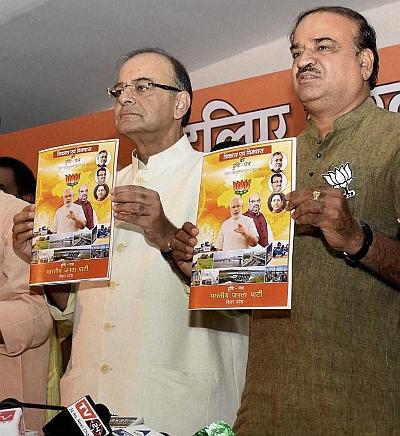 With assembly elections in Bihar barely 10 days away, the two pre-eminent rival alliances in the state are outdoing each other in competitive populism.
Janata Dal (United) leader Nitish Kumar and the Bharatiya Janata Party have promised sops worth at least Rs 2.7 lakh crore each, nearly twice the state's annual expenditure and more than half its gross domestic product of about Rs 4 lakh crore.
A month ago, Kumar promised a 'seven-point' programme for Bihar if he returned as the chief minister. He said his promises, including 24-hour power and water to all households and doles to the jobless, would cost Rs 2.7 lakh crore.
On Wednesday, Finance Minister Arun Jaitley and BJP chief Amit Shah unveiled their party's vision document for Bihar. The party not only promised nearly everything Kumar had, but more.
From colour TVs to laptops, from land for the landless to houses for all by 2022, the BJP's vision document for Bihar promised to shower freebies on all sections of society.
The party, unlike Kumar, didn't provide the estimated cost of implementing its promises.
Neither side will find it easy to raise the funds required to fund their tall promises, given Bihar's annual expenditure in 2013-14 was Rs 1.11 lakh crore, according to revised estimates.
In the 2014-15 Budget estimate, this rose to Rs 1.29 lakh crore, less than half the amount needed to fulfil Kumar's promises. The cost of these poll promises will be substantial despite the fact that these will have to be fulfilled over five years.
Prime Minister Narendra Modi has already announced Rs 1.65 lakh crore worth of centrally-funded infrastructure projects for Bihar. Many of these are either already underway or budgetary allocations for these have already been made.
A back-of-the-envelope calculation of the cost of implementing four of the BJP poll promises puts the figure at several thousand crores.
The BJP has promised a colour TV to each Scheduled Caste household. According to the Socio Economic Caste Census, Bihar has about three million such households. That means an expenditure of Rs 1,500 crore.
The party has promised five decimal of land (a decimal is a hundredth of an acre) to each of the 11 million landless households for constructing houses. In Bihar, 66 per cent households do not own land, according to the SECC. As land is expensive in rural areas of the state, owing to very high population density, the cost of this scheme will also run into thousands of crores.
The BJP has also promised 5,000 scooters to girl students and 50,000 laptops to meritorious students every year.
While dhotis and sarees will also be distributed to poor households, farmers have been promised interest-free loans.
Other promises include houses for all by 2022, 100,000 service kiosks in urban centres for unemployed youth and computer training for at least one member from each household.
Several aspects are common to both the BJP's vision document and Kumar's seven-point programme. These include providing three per cent interest subvention on study loans for all who pass standard XII examinations, constructing pucca roads and lanes to each house, providing electricity and water to each house and setting up a Rs 500-crore venture capital fund.
Kumar has also promised 35 per cent reservation for women in state government jobs.