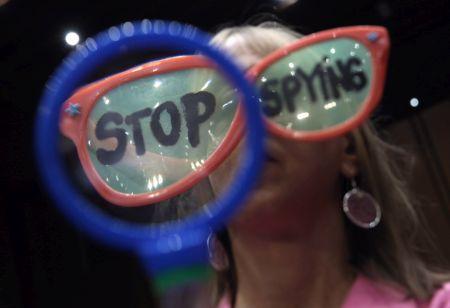 US President Barack Obama has signed into law landmark USA Freedom Act, forcing intelligence agencies to set up a system that will leave the telephone metadata with telecom companies rather than the government.
Obama signed the bill late Tuesday night hours after the Senate voted in favour of it by 67-32, significantly reversing America's most controversial surveillance program since 9/11.
Republican-controlled Senate voted in favour of the bill more than 36 hours after some of the key provisions of the Patriot Act Expired.
"After a needless delay and inexcusable lapse in important national security authorities, my administration will work expeditiously to ensure our national security professionals again have the full set of vital tools they need to continue protecting the country," Obama said.
Just as important, enactment of this legislation will strengthen civil liberty safeguards and provide greater public confidence in these programs, including by prohibiting bulk collection through the use of Section 215, FISA pen registers, and National Security Letters and by providing the American people with additional transparency measures, he said.
The new law puts a limit on the National Security Agency ability to scoop up and store telephone numbers, dates and times of calls from millions of Americans who have no connection to terrorism.
The NSA's practice of bulk collection of Americans' data was disclosed by former contractor Edward Snowden.
Republican leader Nancy Pelosi said the bipartisan USA Freedom Act overwhelmingly passed by the House provides thoughtful reforms of intelligence gathering tools designed to keep Americans safe.
"Rather than act swiftly on this bipartisan measure, Senate Republicans created an avoidable crisis that shut down vital intelligence gathering," she said.
Senator John McCain, Chairman of the Senate Armed Services Committee, who voted against the bill said the USA Freedom Act fails to provide the intelligence agencies with the critical capabilities the country needs to prevent future terrorist attacks against homeland.
The Information Technology Industry Council welcomed the passage and sign of the Freedom Act.
"Meaningful surveillance reform has been a top priority for the technology sector. We thank the Senators and Members of Congress who voted to pass this bill that effectively ends indiscriminate bulk collection of data and brings needed transparency to the process by allowing tech companies to report information about the government orders they receive for access to data," said it president and CEO Dean Garfield.
"This bill is a critical step in restoring America's reputation as the leader in protecting the privacy and security of user data," he said.
Republican presidential aspirant Senator Marco Rubio voted against the bill, saying the 'USA Freedom Act' weakens US national security by outlawing the very programmes the intelligence community and the FBI have used to protect Americans time and time again.