The Bengaluru bandh called by various organisations over the Cauvery river water dispute evoked partial response on Tuesday, as most of the public services functioned normally but fewer people than usual ventured out.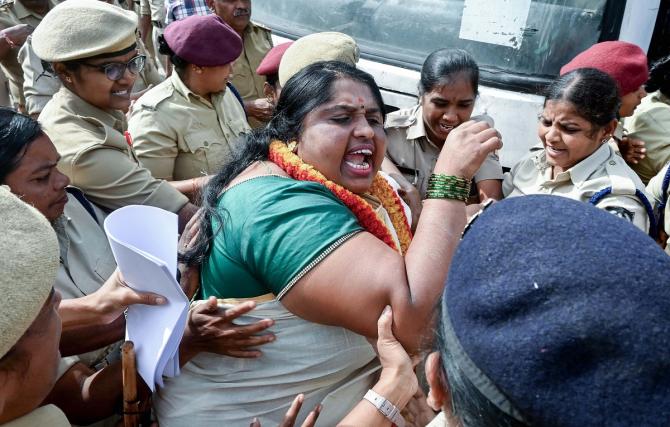 'Karnataka Jala Samrakshana Samiti', an umbrella outfit of farmers' associations and other organisations led by Kuruburu Shanthakumar, had given the call for today's dawn to dusk (6am to 6pm) shutdown.
Earlier in the day, Shanthakumar and other leaders of the Samiti were detained by the police at the Mysuru Bank circle, as they were trying to lead a protest march towards Town Hall.
Several activists of pro-Kannada organisations were also whisked away by the police at Town Hall, as they gathered there to stage a protest.
Farmers' leaders and pro-Kannada activists hit out at the government for allegedly using police force to curtail the protests and the bandh.
Farmers and pro-Kannada organisations with their leaders, including Shanthakumar and others, later staged protests at Freedom Park, which is the only designated place for such demonstrations.
Transport Minister Ramalinga Reddy met protesters at Freedom Park and received a memorandum from them.
"I have received the memorandum on behalf of the government. I will bring them to the notice of the chief minister," he said.
The five-point memorandum includes demands that water is not released from Cauvery to Tamil Nadu, an election commission-like body be put together to assess things during distress years, Mekedatu project be implemented, and cases against farmers and pro-Kannada activists be withdrawn, he said.
The government is on the side of the farmers and is committed to protecting the interests of the state and its people, Reddy added.
Shanthakumar claimed that the bandh has been successful. The samiti has set a three-day deadline for the government to announce its decision, failing which the outfit will intensify their protest.
City police have taken all adequate security measures to respond to any violent situations that may happen during the protests. About 100 platoons have been deployed.
Bengaluru Police Commissioner B Dayananda said that prohibitory orders under section 144 will be in place across the city from midnight on Monday to midnight on Tuesday.
There were reports of some miscreants allegedly trying to shut hotels that were open in Jayanagara area and trying to damage property. Police have registered a case and efforts are on to nab the culprits.
Meanwhile, 'Kannada Okkuta', an umbrella organisation for pro-Kannada organisations -- led by Kannada activist Vatal Nagaraj, which has called for a statewide bandh on September 29, is not not supporting today's bandh.
Yet, Nagaraj and other Kannada Okkuta leaders today tried to lay siege to Raj Bhavan, but were stopped midway by the police, who detained them and whisked them away.
All schools and colleges in the city were shut today. Though cab services, autos, and hotels/restaurants were seen operating, drivers and hotel operators said that not many people patronised the services.
Similar is the case with the Bengaluru Metropolitan Transport Corporation (BMTC) buses and Metro rail services, as no regular rush was seen at bus and metro stations.
The Ola-Uber Drivers' Association and Hotel Owners' Association have said that their services will be normal today, but they have extended support for the September 29 Karnataka bandh.
Most private companies and firms, including those in the IT sector, asked their employees to work from home. Most malls and cinema theatres remained shut, as were many shops and establishments.
Opposition BJP and JD(S), which have been targeting the Siddaramaiah-led Congress government of failing the state by releasing Cauvery water to Tamil Nadu, have supported today's bandh.
The Bengaluru bandh was also in force in Malavalli in Mandya district, Ramanagara and a few other places.
While pro-Kannada activists held a motorcycle rally in Malavalli, some protestors sought to target Tamil Nadu Chief Minister M K Stalin "by paying floral tributes" to his portrait in Ramanagara's Ijoor Circle .
Karnataka Chief Minister Siddaramaiah and Deputy Chief Minister D K Shivakumar had said yesterday that the government will not curtail the protests.