'The BJP government is here to stay for several years. We don't intend to meddle with their priorities.'
Sharat Pradhan reports on the RSS conclave in Lucknow. Photographs: Sandeep Pal

Yes! Yes! You are seeing right.
That is Amit Shah, national president of the Bharatiya Janata Party and the imminent conqueror of Haryana and Maharashtra, sitting almost anonymously in the audience.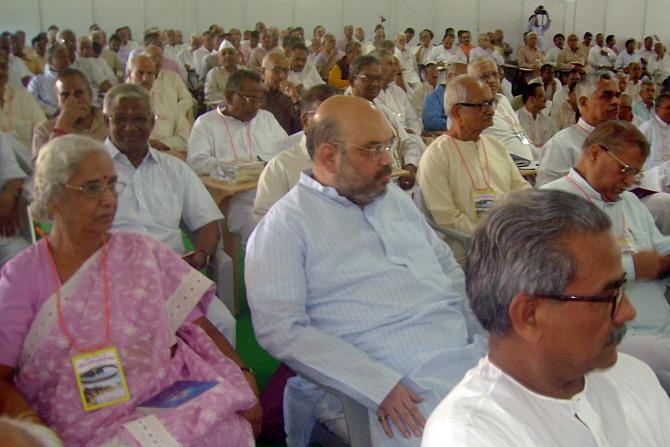 Amitbhai, who is moving to a bungalow on New Delhi's Akbar Road with his family this weekend, flew to Lucknow to meet Rashtriya Swayamsevak Sangh leaders who are in the city for a three-day national conclave.
Was Amitbhai visiting to seek Mohan Bhagwat's approval to appoint the RSS Sarsanghchalak's fellow Nagpur-nivasi Devendra Fadnavis as Maharashtra's mukhya mantri?
"The BJP president is here in keeping with our tradition of participation by successive BJP chiefs over the years," says RSS Sahsankarvah (joint national chief) Dattatreya Honsbele, adding, "That's it!"
The gates to the Saraswati Shishu Mandir building -- the venue for the RSS meeting -- have been locked from all sides and guarded by khakhi-clad, lathi-wielding, volunteers.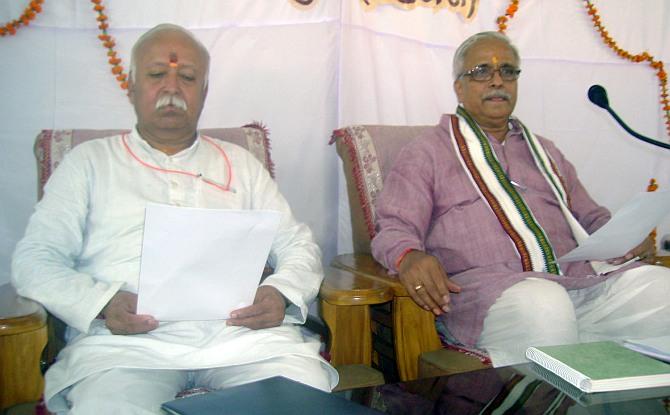 Image: RSS Sarsanghchalak Mohan Bhagwat, left and Suresh Bhaiyaji Joshi.

Two ticklish issues are apparently off the agenda -- love-jihad and Ayodhya.

"The Ayodhya issue has always been on the BJP manifesto and the VHP (Vishwa Hindu Parishad) has been taking appropriate steps in that direction," Honsbele told reporters.
Would the RSS ask the Modi government to fulfil the BJP's commitment to build the Ram temple through special legislation? "The BJP government is here to stay for several years," Honsbele said, "we do not intend to meddle with their list of priorities."
What about love-jihad? "It has been on our mind and been discussed and debated several times in the last decade," the RSS leader added.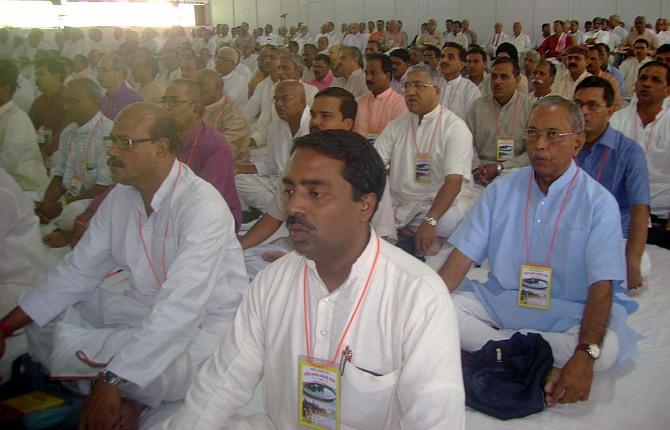 So what then are the RSS leaders discussing?
In a nation with more than half a billion Indians under the age of 30, the RSS wants to attract more youngsters to the Sangh and its cause.
Image: RSS pracharaks in the audience.
"80,000 youth volunteered for the RSS in 2013," Honsbele revealed, "we are hoping to enrol at least 1.2 lakh (120,000) this year."