A coalition of over 150 US-based academicians back Prime Minister Narendra Modi's visit to Silicon Valley next week and counter 130 US-based South Asian academics who oppose the Modi visit and his Digital India initiative.
Aziz Haniffa/Rediff.com reports from Washington, DC.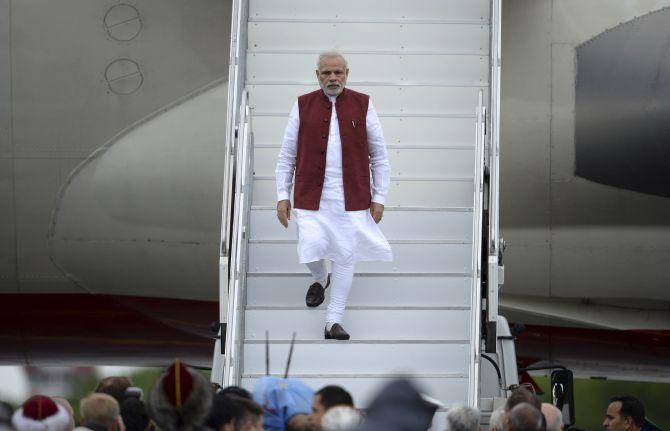 IMAGE: Prime Minister Narendra Modi and his government's policies are a subject of much contention amongst US academics. Photograph: Reuters
A coalition of over 150 United States-based academics have extended Prime Minister Narendra Modi enthusiastic welcome for his visit to Silicon Valley next week.
This is obviously an effort to rebut the 130 US-based South Asian academics, who earlier this month, expressed concerned over Modi's Digital India Initiative as ostensibly a means to conduct mass surveillance and initiated a protest petition in advance of his visit.
Dr Aseem Shukla, associate professor of surgery at the University of Pennsylvania, and co-founder of the Hindu American Foundation told Rediff.com, that he came along with Professors Narayanan Komerath, Ramesh Rao and Bal Ram Singh, "to distribute this statement widely among colleagues."
"We were overwhelmed by the response, and we continue to accrue signatures by the moment," Dr Shukla said, and added, "Our goal is to ensure that Prime Minister Modi understands that the American academy welcomes him to Silicon Valley and that we are eager to partner with him to actualise his lofty aspirations for technological and educational innovation and that we recognise all that he has achieved, even while there is much to be done."
"Our statement," Dr Shukla said, "discusses Digital India and several other issues and is signed by over 150 academics, based at the most prominent US colleges and universities."
The statement also drew signatories from the liberal arts, business schools and medical schools.
'The Digital India project,' the signatories stated, 'heralds a new age of participatory democracy and enhances transparency in governance in India, levelling the playing field for vast numbers of India's citizens.'
Joining several prominent professors of engineering schools, having membership in prestigious societies like the National Academy of Engineering supporting the welcome statement, Norman Fortenberry, executive director of the American Society of Engineering Education, provided a welcome letter on behalf of the society of over 12,000 engineers and 400 engineering institutions.
'We express our hope that your visit will further provide opportunities to enhance partnerships between ASEE member institutions in the US and Indian engineering and technological institutions, which will result in the engineering and technological skills development of the youth of India,' Dr Fortenberry wrote.
"As the welcome statement continues to receive new signatories daily," Dr Shukla said, "the letter will remain available online, continuing to accept support from American academics and it will then be delivered to the Prime Minister's Office prior to his arrival, and also to him personally when he reaches Northern California."
'We understand that Prime Minister Modi will interact with leaders of flagship technology companies ranging from Google to Adobe, and Facebook to Tesla, and that he will address over 18,000 Americans, members of the US Congress, civic leaders, and others at a community reception,' the statement said. 'We believe that these engagements will promote economic, political, social, and strategic interests of the United States and India.'
While it predicted that the 'partnership with American academic and business leaders with the expertise and experience,' would 'ensure that Digital India realises its potential without imperilling India's privacy laws and individual liberties,' the statement also noted that 'We are encouraged by reports that 170 million new bank accounts have opened, accompanied by government-backed catastrophe insurance, bringing hope to the most needy in India.'
'Tying these accounts into the Aadhar identity document program could give many citizens their first clear symbol of empowerment,' the statement added.
'We believe that partnerships in Silicon Valley and knowledge exchange with the American academy have the potential to offer solutions in educational entrepreneurship necessary to reach and inspire those 356 million young Indians and prepare them for the 21st century.'
'As faculty who engage South Asia in our research and teaching,' the earlier anti-Modi petition said, 'we express our concerns about the uncritical fanfare being generated over Modi's visit to promote Digital India.'
The anti-Modi petition also reminded its recipients of the reasons for Modi being denied a US visa from 2005 to 2014 and mentioned the case in Indian courts that questions his role in the Gujarat riots of 2002 where over 1,000 people, mainly Muslims, were killed.
That petition also alleged that India has witnessed growing censorship and harassment of individuals and organisations critical of Modi and his government policies and the restrictions on NGOs.