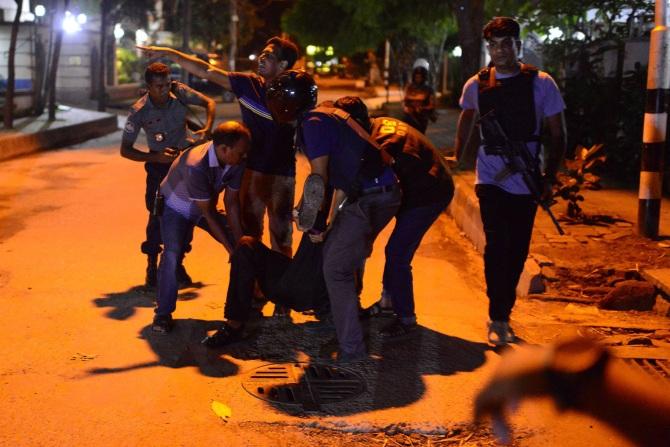 Bangladesh has alerted Indian security agencies that the mastermind of the deadly Dhaka cafe terror attack may have fled to India, amid a nationwide manhunt to track down the Bangladeshi-Canadian, police chief said on Monday.
"We have alerted the Indian security agencies against his (Tamim Chowdhury's) possible escape to India to evade the arrest," Bangladesh Police chief AKM Shahidul Hoque said.
He said a massive manhunt is underway to track down Bangladeshi-Canadian Chowdhury as he is suspected to be the mastermind of the recent terrorist attacks in the country.
Hoque said during his recent New Delhi visit accompanying Home Minister Asaduzzaman Khan, he alerted the chiefs of the National Investigation Agency and the Central Bureau of Investigation against Chowdhury and 'Indian security agencies are looking for him as well'.
"Chowdhury could be the key-operative of (Syria-based) Islamic State in Bangladesh," he said, but quickly added that no proof of IS link to the recent terror attacks were found so far, reiterating the government's stance on the issue.
A newspaper earlier reported that Chowdhury appeared as the leader and main financier of a reorganised Jamaatul Mujahideen Bangladesh while Bangladesh earlier attributed the two attacks to the outfit.
Hoque, however, said a reconstituted JMB, which he preferred to call 'neo-JMB', was identifying them as IS operatives in Bangladesh.
A senior officer at the police headquarters supplemented Hoque, saying the new outfit, mostly led by close relatives of the original outfit, adopted a revised philosophy for the outfit three years ago which was inclined to that of the IS.
Independent security analysts earlier said JMB or neo-JMB was inclined to the IS while another banned outfit called Ansarullah Bangla Team was ideologically linked to al Qaeda.
The police chief's comments came days after Bangladesh identified Chowdhury as the mastermind of the July 1 terrorist attack on a Dhaka cafe.
Police earlier this week said a security raid on a terror hideout last week provided them the clue to detect him as the architect of the recent Islamist assaults adding that he returned home from Canada three years ago.
A police officer familiar with the investigation earlier said evidence gathered from the scene of the July 26 overnight security raid at Dhaka's Kalyanpur area, when nine presumed terrorists were killed, led police to identify Chowdhury, believed to be in his mid 30s.
The July 1 attack on the Holey Artisan restaurant left 22 people including an Indian girl and two police officers dead, while the July 6 assault on an Eid congregation at northern Sholakia killed two policemen and a woman.
The family members of the five militants, who were shot dead in a gunfight with security forces at the Artisan, have not come forward to claim their bodies.