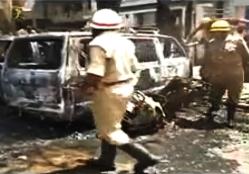 The Bangalore police investigating the bomb blast near the Bharatiya Janata Party office in the city say that the explosion was aimed at causing a sensation and also to show the police department in poor light.
The bomb was placed very close to a police van and hence seven of the 16 injured were police personnel.
Attacking police personnel only doubles the fear factor among the people and the message goes loud and clear: even the police can't protect itself.
It had been claimed earlier that it was a high intensity blast. However, now the investigators say that the material were either grade one or grade 2 (meaning low intensity).
Hence it is clear that the idea was to send a message more than to destroy.
The intensity felt high since the van that was parked near the motorcycle on which the bomb was placed was fitted with a cylinder. This explosion only doubled the impact, investigators say.
The police also say that the quantum of the explosives could have been anything between 2 and 3 kilograms. The police also confirm the use of a timer.
The bomber, according to the police, arrived at the spot at 10.15 am. The bomb placed on the motorcycle.
After he parked his motorbike between the two vehicles, he went to a nearby shop, waited a couple of minutes and then left.
Meanwhile, the police are looking at multiple angles. The possibility of an Indian Mujahideen angle has not been ruled out, police sources tell rediff.com.
An officer involved with the investigation said that they are looking at the case on two angles at the moment.
The modus operandi and the manner in which the bombs were placed go on to suggest an Indian Mujahideen link. However, it is too early to come to any conclusion.
The other angle that they have been looking at is political. This is largely based on the intelligence reports of disgruntled elements trying to cause disruptions after they have been denied tickets in this poll season.
There has been a problem both in the ruling Bharatiya Janata Party and the Congress regarding the distribution of tickets.
Moreover, the police also do not rule out the fact that the entire thing could have been staged to cause diversions to various electoral issues.
Image: Video grab of the blast site outside the BJP office in Bangalore