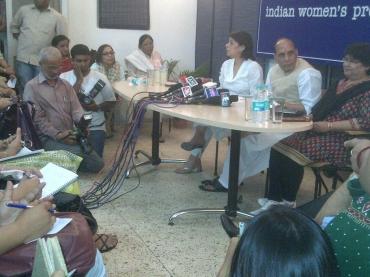 Bharatiya Janata Party President Rajnath Singh on Wednesday claimed that Gujarat Chief Minister Narendra Modi had never sought to be projected as the BJP-led National Democratic Alliance's prime ministerial candidate.
Singh made the remark at a press conference organised by the Indian Women's Press Corps, where he faced a volley of questions about Modi and NDA ally Janata Dal - United's opposition to the Gujarat CM's nomination as the PM candidate.
Addressing the differences with JD-U over the issue, Singh categorically stated that the NDA should not be allowed to split. He added that he had not instructed the BJP's Bihar unit to walk out of the ruling coalition with the JD-U.
Speaking on the forthcoming Karnataka election, Singh claimed that the BJP's fortunes in the state would not affect national politics. He pointed out precedents of political parties winning state elections but losing out in the Parliamentary polls.
Image: BJP President Rajnath Singh answers questions by the Indian Women's Press Corps