Station relay rooms and compounds housing signalling equipment should have 'double locking arrangements', the railways has directed its zonal headquarters after initial probe showed 'signalling interference' as a suspected reason behind the Odisha triple-train accident.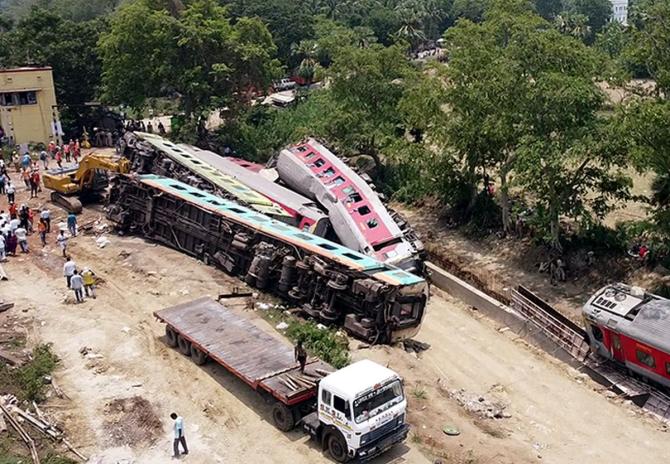 The crash on Friday in the state's Balasore district killed 275 people and injured more than 1,000.
Railway officials had earlier indicated that possible 'sabotage' and tampering with the electronic interlocking system, which detects the presence of trains, led to the accident involving the Shalimar-Chennai Central Coromandel Express, the Bengaluru-Howrah Superfast Express and a goods train.
In a letter to general managers of all zones, the Railway Board has directed that a safety drive should be launched immediately with special focus on all 'goomties' (rooms along tracks) housing signalling equipment within station limits.
It said they should be checked and it should be ensured they have 'double locking arrangements'.
The board said that 'all relay rooms in stations should be checked and ensured for proper working of double locking arrangement'.
'It should also be checked and ensured that there is data logging and generation of SMS alert for opening/closing of door of these relay rooms,' it said.
The Railway Board also instructed that it should be checked that the system of disconnection and reconnection for signalling and telecommunication equipment is being followed strictly according to laid down norms and guidelines.
'During safety drive these items should be checked at 100 per cent of the above locations, further these items should be super-checked by officers for 10 per cent of the above locations,' it said.
The board has also said suitable follow-up action should be taken on all deficiencies and irregularities noticed during the drive.
The results of the drive should be sent to board by June 14, it said.
Meanwhile, around 54 officials of the Kharagpur Division of the South Eastern Railway, who were on duty during the accident, have been asked to be present for a inquiry on June 5 and June 6.
The board has also summoned off-duty railway officials who were onboard either of the trains, and officials who were first on the accident site.
*****
Railways releases online links with details of affected passengers
To help families locate their kin affected by the triple train accident in Balasore, the railways, in coordination with the Odisha government, has prepared three online links with photos of those killed and lists of passengers admitted to different hospitals.
'In order to facilitate the families of those who are still unaware about whereabouts of their relatives in the triple train accident in Bahanaga, Odisha, Indian Railways with the support of Odisha government has taken an initiative to locate them.
'The family members/relatives/friends and well-wishers of the passengers affected in this unfortunate accident can locate using the link of photos of deceased, lists of passengers admitted in different hospitals and also about unidentified bodies using these following detail,' the railways said in a statement.
The railways has appealed to people to use the three links -- link of photos of the deceased (here), link of lists of passengers undergoing treatment in different hospitals (here), and link of unidentified persons under treatment at SCB Cuttack (here).
It also said that Railway Helpline number 139 is working round the clock for connecting the families/relatives of passengers affected in this rail accident.
Helpline 139 is being manned by senior officials. Also, Bhubaneswar Municipal Corporation Helpline number 18003450061/1929 is also working 24x7.
The Bhubaneswar Municipal Commissioner's office has established a control room to help affected families.