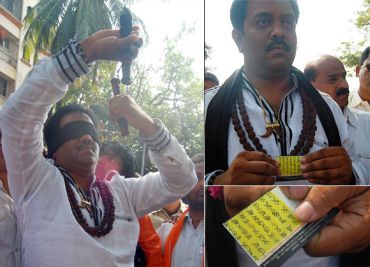 Mumbai's first family apparently is no different when it comes to saving the life of its patriarch. At a time when Shiv Sena supporters across India are wishing that its chief Bal Thackeray recover from his ill-health, a self-styled practitioner of healing through energy fields claimed that the Sena supremo will recover speedily and will be up on his feet in a matter of days. 
The Thackerays allowed Lal Arvind Singh Sehdev inside Matoshree, the family residence in Bandra east, Mumbai, proving that they too are only human when it comes to the well-being of the patriarch. 
Sehdev, a practitioner of what he called Rohini Vidya -- through which he says he creates positive energy by the use of mantras -- told rediff.com that the presence of positive energy in Matoshree has improved since his last visit on Wednesday. 
"The flow of positive energy is definitely higher today than on Wednesday," he said on Friday morning. 
A local Shiv Sainik, Sanjay Sawant, who happened to know of Sehdev's practices via the Internet, called Sehdev to Mumbai. 
"Like Shiv sainiks who want Balasaheb to recover quickly and win this life and death battle I called Sehdev for the same thing. Seeing a glimmer of hope in Sehdev's Rohini Vidya that can help our Kul Daivat (God) recover completely from this illness, I invited Sehdev to come and do something," Sawant told rediff.com. 
To normal ears Sehdev's process -- in which he claims that he communicates with angels and supernatural powers that possess positive energy -- is sheer mumbo-jumbo. "Once the communication channel is opened," he says, "these energies get stored in my body. I then transfer these energies into the earth where one needs it the most."  
Sehdev said he divined the flow of positive energy on the ground floor of Matoshree on both occasions and found it had improevd. 
Sehdev even demonstrated his craft to the media by blindfolding himself and waving his hands about "to summon and sense positive energies". 
"Once a place gets sufficient amount of positive energies they push out the negative energies and enhances the blood circulation of the patient. Once the blood, and hence oxygen, reaches all the vital organs they begin to function normally and the person recovers quickly," Sehdev says. 
Sachin said Sehdev will be in Mumbai for a few more days and if possible will make a couple of visits again to Matoshree. 
Interestingly, the Shiv Sena chief has on many occasions publicly ridiculed the use of such methods and their practitioners. 
Image:  Lal Arvind Sehdev demonsrates his craft to the media; Inset: His yantra.
Images: Prasanna D Zore