Panthic politics came easily to Parkash Singh Badal, but he was quick to abandon it when it became a problem, notes Aditi Phadnis.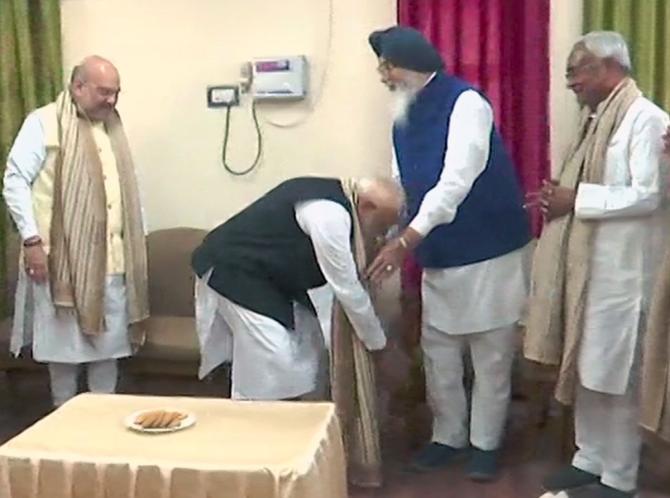 Parkash Singh Badal, 95, who went to jail for India's freedom and Punjab's honour, 10-term MLA and five-term chief minister of Punjab, died on Tuesday, April 25, 2023, after about a week in a Mohali hospital. He wrote an open letter last month, shaming the Aam Aadmi Party government for including his name in a murder conspiracy charge.
'During my entire life, I have been fighting against the tyranny of the governments and at the age of 95 years, I would continue to fight... such pressure tactics can never cow me down and I have full faith in the judiciary,' he said.
He also said the action was 'immoral, a threat to democracy, and a nefarious conspiracy to tarnish the Constitutional position of the CM... it is the height of vendetta politics.'
Although he died in a hospital, lately he had been spending most of his time at his farm, surrounded by peacocks and the fragrance of orange flowers. His last birthday saw a steady stream of callers.
He had many, many, admirers although many of his friends including Atal Bihari Vajpayee, for whom he sought a Bharat Ratna in 2013, much before the Bharatiya Janata Party voiced the demand, are no more.
Badal's foray into politics began as a sarpanch in his native village, Badal. He was 19 and the year was 1947.
Like many politicians of his time, he had been fired with enthusiasm during the freedom struggle and saw the Congress as a liberator, entering the state assembly in 1957 as a Congressman.
He was to revise that view: Badal called the Congress the Akali Dal's 'permanent enemy' after the Emergency of 1977.
In politics for 75 years, he lost only two elections -- one in 1967, by 57 votes, and then in the 2022 Punjab assembly election when his beloved Lambi, which he represented for several decades, rejected him.
He was a consummate politician.
When the AAP gheraoed his house one hot day in May 2016 on the issue of farmer suicides and an alleged Rs 12,000 crore (Rs 120 billion) wheat scam, Badal, then CM, stepped out of his home, folded his hands and said it was lunchtime.
If his guests would not eat lunch, he could not eat either: 'Why not come inside, away from the hot sun, and discuss everything peacefully over roti?'
A group of AAP volunteers made it as if to go inside with him. If the police had any ideas about a lathi-charge or arrest, they abandoned them. The trucks to arrest the protesters were sent away. The barricades were taken down.
But that did not stop Badal from roaring the next day that 'AAP's politics is a betrayal of the people of Punjab on river waters. They follow the politics of fraud, deception and cheap stunts.'
Panthic politics came easily to him. But he was quick to abandon it when it became a problem.
The historic Moga conclave of 1996 saw the partnership of the Shiromani Akali Dal and the BJP. The BJP wanted to defeat the Congress and do right by Punjab after 1984. But it was uncomfortable with the Panthic agenda.
The Moga conclave saw Badal sideline the Panthic agenda and replace it with Punjab, Punjabi and Punjabiyat. This suited everyone: The Rashtriya Swayamsevak Sangh which believes Sikhs are 'keshdhari Hindus'; and the moderate Sikhs.
The very next year, the SAD-BJP alliance came to power and Badal became CM.
Many accused Badal of equivocation after 1984 and argue that politically, he did not do enough to assuage the hurt Sikh psyche, which has led to the resurgence of Sikh radicalism today.
For instance, the SAD shielded IPS officers who were accused of killing youth in fake encounters. Human rights violations and extra-judicial killings during militancy in Punjab were not issues that were addressed seriously.
In Gujarat, the sentences of those who were convicted of rape were remitted. In Punjab, those convicted of sedition stayed in prison for years after their term was over.
The SAD did not fight enough -- although Badal would have been heard if he had done, if only because of his age and standing.
There were other issues. The SAD exited the alliance with the BJP over farm laws, knowing full well that the move would affect their political future. This has given the BJP a new constituency to conquer with leaders like Hardeep Puri representing a new phase of Sikh identity politics.
Badal belonged to a different age. It was an era when free water and electricity were seen as the lever of continuing the Green Revolution. But the young men are all gone from Punjab, the only political issue remaining is, shockingly, the sacrilege of religious scriptures and the handling of the drugs economy.
Badal could use the carrot and stick to play with militancy, a word here, a signal there.
He has left that behind and gone to a better place.