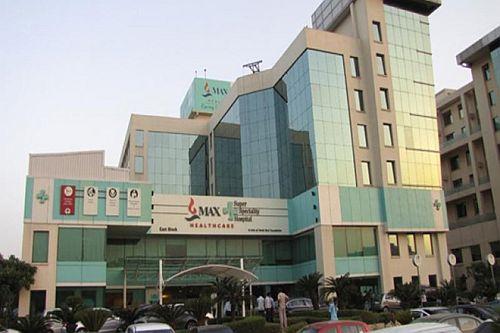 A premature baby, who was found alive after being declared dead by Max Hospital, breathed his last on Wednesday with his father refusing to take the body demanding arrest of the erring doctors, even as the Delhi Police transferred the case from district police to Crime Branch, an official said.
The boy died at a nursing home in Pitampura after battling for life for nearly a week.
On November 30, Ashish Kumar's wife gave birth to premature twins (boy and girl) at Max hospital in Shalimar Bagh.
Both the babies were declared stillborn by the hospital and handed over to the family allegedly in a polythene bag.
But to their utter horror, the family found that the boy was still alive, while they were on way to do their final rites.
The family rushed the baby to a nearby nursing home in Pitampura, while the mother remained at Max Hospital as she was very weak.
Max Healthcare authorities on Wednesday released a statement saying, 'We just learnt of the sad demise of the 23-week preterm baby, who was on ventilator support.'
'Our deepest condolences are with the parents and other family members. While we understand that survival in extreme preterm births is rare, it is always painful for the parents and family. We wish them the strength to cope with their loss,' it added.
Aslam Khan, deputy commissioner of police (northwest), also confirmed the news.
However, Kumar has refused to take the body of his child, in an act of protest and demanded that the doctors of Max Hospital allegedly involved in the 'medical negligence' in the case be arrested.
"I will not take my son's body until the two doctors are arrested," Kumar told said.
He also said he will also not get his wife, who is still admitted at Max Hospital, discharged from until they get justice.
The baby's uncle said that they will continue to protest outside Max Hospital.
A panel formed by the Delhi government to look into the case on Tuesday found Max Hospital guilty of not following prescribed medical norms in dealing with newborns.
On December 2, Delhi Health Minister Satyender Jain had said the hospital's licence could be cancelled if a probe found it guilty of medical negligence.
Max Healthcare on December 4 had said that it had decided to terminate the services of two doctors allegedly involved in the case.
The final report of the ongoing probe is expected in two days and based on that strictest action will be taken, Jain said on Wednesday.
He was addressing a press conference, hours after the baby's death at the Pitampura nursing home.
"The preliminary report has found them guilty in certain aspects and the final report is expected in next two days. Once we get that we will take strictest possible action according to law," he told reporters.
Jain reiterated that on November 22, a notice was sent to Max Hospital for allegedly violating norms related to services to be given to EWS patients.
"These two cases have been clubbed and we will take action accordingly," he said.
Asked to respond to the allegation by the father that no one from the Delhi government approached the family to help, he said, "There are certain legalities involved but we responded immediately and took action."
'Tragedy befalls parents again'
Kumar, 25, was on cloud nine a few months ago when he learnt that he was going to be a father, but fate has left him and his wife devastated and traumatised as they lost the second of their
premature twins on Wednesday.
"I have been wronged. Instead of becoming a father, I lived through the death of my daughter, and death of my son, not once but twice. I feel as if a bolt of lightning has struck me over my head. But I will not take my son's body until the two doctors are arrested, so that we get justice," Kumar told PTI.
Kumar, whose native place is in Rajasthan, runs a shop in Nangloi area in west Delhi, and the pain and suffering over the last few days has, left him shaken to the core.
He stood outside the nursing home in Pitampura, while his wife is still recovering from the complications of the birth.
"My wife, Varsha, 21, is still admitted at Max Hospital. She is still weak. And, I will not get her discharged from that hospital until they get us justice. My family members are all there with her," he said.
Kumar has alleged that the doctors and hospital authorities are responsible for the fate his child has suffered.
Recalling the ordeal, he said, "We were given two babies in one yellow-coloured polythene bag. While taking them for burial in a car, we had put them in separately. I was holding my deceased daughter while my father-in-law was holding the baby boy, when he found him moving his leg."
"We were taking him to bury. It was God's grace that we got to know he was alive in the nick of time, otherwise I would have committed a grave sin," said an emotionally distraught Kumar.
The Delhi government and Max Healthcare have ordered separate probes into the case.
Probe transferred to Crime Branch
The Delhi Police on Wednesday transferred the case to its Crime Branch for detailed probe, a senior official said.
The case involves a detailed investigation of the medical aspects, said a senior police officer.
It entails a long process in which the investigators will have to write to the Delhi government's health department, the Medical Council of India and the Delhi Medical Council to seek their opinions on certain aspects related to the case, he added.
Subsequently, the case was transferred from the district police to the Crime Branch, which is a specialised unit of the Delhi Police.