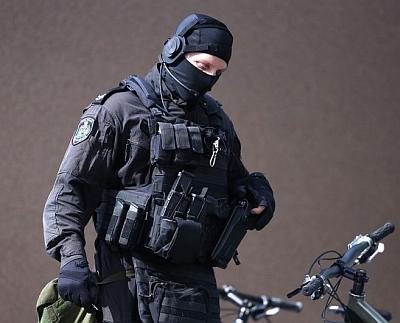 Australian police have thwarted an imminent attack linked to the Islamic State "death cult" and arrested two men from Sydney, prompting Prime Minister Tony Abbott to warn that the threat of terror attacks would get "worse before it gets better".

The two accused -- Omar Al-Kutobi, 24, from Iraq and Mohammad Kiad, 25, from Kuwait -- were arrested in a raid carried out by the New South Wales Police at a house in the western Sydney suburb of Fairfield yesterday, following a tip-off that they were planning an attack.

They have been charged with preparing to commit a terrorist act, which carries a maximum punishment of life in prison.

Police seized a machete, a hunting knife and a homemade flag associated with Islamic state along with a video of a man talking about carrying out an attack.

Deputy Commissioner Cath Burn said the men appeared to be planning to harm or kill someone by "using one of the items recovered (in the raids), potentially a knife".

Police believed the attack was going to occur on Tuesday.

She said the video showed one of the two arrested men making threats. "One of the men indicated an attack as going to be carried out," she said.

Asked whether they were planning a beheading, Burn replied, "We don't really know what act they were going
to commit."
The lawyer of the two accused didn't apply for their bail and it was formally refused during a brief court hearing on Wednesday. Neither man appeared in the courtroom.
Meanwhile, Prime Minister Abbott predicted that the threat of terrorism attacks like the one allegedly foiled in Sydney on Tuesday would get "worse before it gets better".
Speaking to the Federal Parliament in Canberra on Wednesday, Abbott said, "This was an imminent attack in Australia inspired by the Da'esh (IS) death cult."
"This is a serious problem and I fear it will get worse before it gets better. As we have seen again and again in recent times, the death cult is reaching out all around the world, including here in Australia," he added.
Australia, an important member of the US-led coalition against the Islamic State, raised its terror warning level to "high" in September last year after police conducted a series of counter-terrorism raids in the country.
The government believes as many as 90 Australians are fighting alongside the Islamic State group in Syria and Iraq, with another 140 supporting the group from Australia.
The arrests come nearly two months after the Iranian-born Man Haron Monis took 18 people hostage inside a downtown Sydney cafe. Two hostages and Monis died when the police stormed the cafe to end the 17-hour siege.