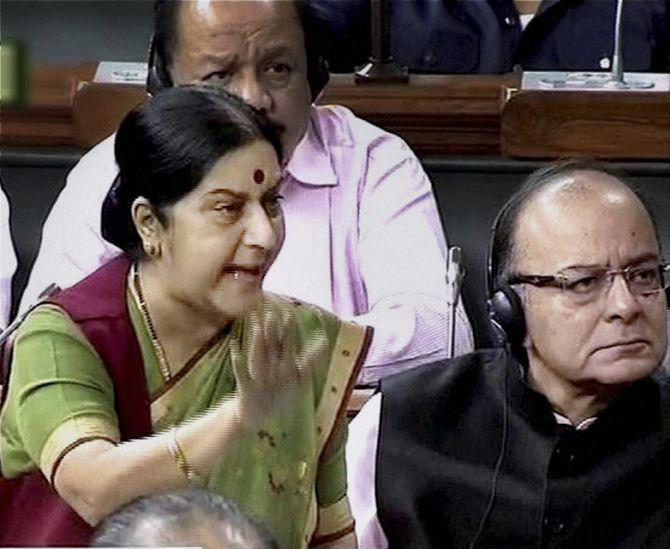 The recent attacks on Indians in the United States are "hate crimes" and not a simple law and order issue, the government said on Monday with an assertion that national interest will not be compromised for the sake of Strategic Partnership with that country.
Making a statement in the Rajya Sabha, External Affairs Minister Sushma Swaraj expressed confidence that the Trump administration will not let these incidents become a trend and is keeping a close watch on it.
"We do not treat these incidents as law and order matter. It is not as simple as that. From our side, we are saying that these are 100 per cent incidents of hate crime," she said, adding that the investigation should be carried out from such a perspective.
The minister was making statement on three incidents of attacks on Indians in the US. On February 22, 32-year old Srinivas Kuchibhotla was shot dead by a US national in Kansas city, while on March 2 Harnish Patel, a US national of Indian origin, was shot dead.
On March 4, Deep Rai, a US national of Indian origin, was shot by an unknown person in Kent near Seattle.
"We are taking up this matter at the highest level. We are watching if there is any trend being set," Swaraj said.
She said that the US administration is saying that the attacks were individual acts of hate crimes and no trend should be seen in these incidents.
Communist Party of India leader D Raja voiced apprehension that the Strategic Partnership could come in the way of India taking up this issue with the US.
In her response, Swaraj said, "Strategic Partnership does not mean that we will compromise with our national interest... Do not think that we will remain silent because of Strategic Partnership. The Strategic Partnership is secondary. First comes the security and safety of our nationals."
The minister said that the manner in which the US government has responded, India hopes that these incidents would not become a trend.
"I want to assure the House that despite having a Strategic Partnership and good relations with the US, the safety and security of Indians remains our top priority. We will never ignore that," the minister said.
She said that India is in "continuous dialogue with the US government" on this issue.
Through embassy and consulates, she said, close contacts are being maintained with the local Indian community groups to address any emergent issues.
"We will remain vigilant to developments impacting the lives of Indian abroad and do everything possible to safeguard their interests and welfare," she said.
"The government has taken up this issue with the US governments at a very high level and conveyed our deep concerns. We have called for necessary measures to ensure the safety and security of Indian diaspora and expeditious investigation into these incidents," Swaraj said.
"The US authorities have responded strongly and assured us that they are working with all concerned agencies to ensure speedy justice," the external affairs minister added.
She said that there has been widespread condemnation of these incidents by the US leadership, both in the administration and the Congress and in this context, she referred to statements made by President Donald Trump and others.
Seeking clarifications from Swaraj on her statement, CPI-M leader Sitaram Yechury asked whether the government is treating these incidents as law and order matter or growing hate atmosphere in the US.
He said that there is a certain degree of xenophobia being developed in the US and that is reflecting in this sort of hate against outsiders.
If the assesment is that it is part of growing trend, Yechury asked what would be the response of the government and foreign policy towards US.
Janata Dal-United leader Sharad Yadav complemented Swaraj for her efforts in this matter.
T Subbarami Reddy, who has raised this issue in the House on March 16, said this is a serious matter and asked the government to take it up at the highest level with the US President to prevent these type of incidents in the future.
Raja said: "Ever since the change of the government in the US, the people of Indian origin, people of India living there are living with great sense of fear and insecurity."
"We have strategic partnership with the US that should not prevent us to raise our independent voice," he added.