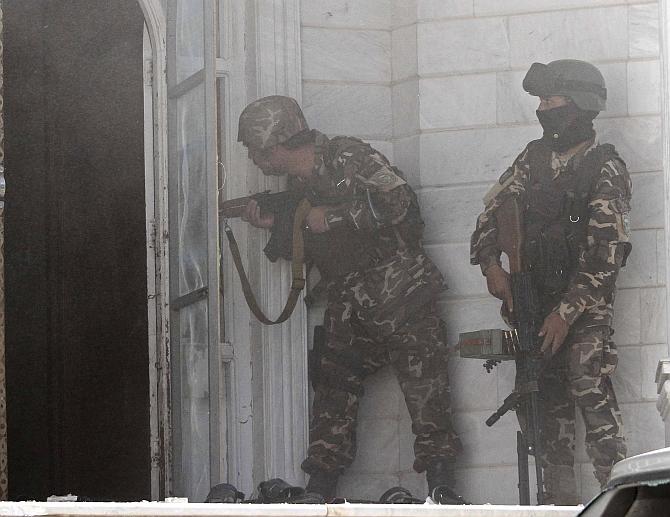 The Indian consulate in the Afghan city of Herat was on Friday attacked by heavily-armed gunmen. The assault, which began at 3.25 am, has been on for several hours.
All the four gunmen, who had stormed the Indian consulate in Afghanistan's Herat province early on Friday, have been gunned down, Indo-Tibetan Border Police chief Subhas Goswami said. "One terrorist was killed by ITBP personnel while three have been killed by Afghan forces. The attack has been successfully repulsed," he said.
Afghanistan President Hamid Karzai called Prime Minister-elect Narendra Modi and assured that Afghanistan will do all to protect India's Missions there.
Modi condemned the attack in Herat and said he is closely monitoring the situation. Modi said he spoke to Indian Ambassador in Afghanistan Amar Sinha following the attack earlier in the day.
"I condemn the attack on our consulate in Herat, Afghanistan. Closely monitoring the situation. I have spoken to the ambassador as well," he tweeted.
Goswami also said that security at the Indian embassy in Kabul and consulates in Jalalabad, Mazar-e-Sharif and Khandhar besides Herat has been beefed up and a high alert sounded to all Indian assets based across
Afghanistan.
"We have been on alert. Our sister agencies have been providing intelligence inputs regularly about sabotage activities against us in Afghanistan. We have asked all our units to be on alert and vigilant," Goswami told PTI.
No group has claimed responsibility for the attack.

India has invested in some major infrastructure projects in Afghanistan like Salma hydroelectric dam in Herat province and the Afghan parliament building in Kabul.

India's development assistance programme for Afghanistan currently stands at $2 billion, making it the leading donor nation among all regional countries.

Afghanistan has experienced a rise in the Taliban attacks as foreign troops plan to withdraw from the war-torn country by the end of the year.
Outgoing Prime Minister Manmohan Singh also strongly condemned the attack. Dr Singh, who was briefed on the incident, expressed relief that all staff and security personnel at the consulate are safe. "I condemn in the strongest terms the attack on the Consulate General of India in Herat. We are greatly relieved that all staff and security personnel at the consulate are safe," he said.
Lauding the bravery of Afghan security forces and the Indian security detail at the consulate, Singh said no words of gratitude would be enough for the bravery and skill with which the attack was repulsed.
"I also thank the Government of the Islamic Republic of Afghanistan for their prompt and decisive response, and for their unstinting support over the years for the security of Indians in Afghanistan," he said.
Dr Singh said such attacks would neither succeed in undermining the close relations between India and Afghanistan, nor deter India from fulfilling its commitment to help the Afghan people in building a peaceful, stable, united, democratic and prosperous Afghanistan.
The outgoing PM said India will continue to support Afghanistan in its "brave fight" against terrorism.
Afghan ambassador Shaida Mohammad Abdali said the incident will only "embolden" his country's determination to keep the friendship with India "at all costs".
Observing that the pre-dawn assault was an attack on the friendship of India and Afghanistan, he said, "I can tell you very confidently that this attack can only embolden our determination that we will keep this friendship at all costs," he said.
Replying to a query, Abdali said that there was little doubt that it was a "terrorist" incident but it was too early to determine who was behind it.
"There is no doubt that it is a terrorist incident but technically speaking we have to wait to investigate this incident," he said.

In August last year, a failed bombing against the Indian Consulate in Jalalabad city near the border with Pakistan killed nine people, including six children. No Indian officials were hurt.

The Indian Embassy in Kabul was attacked twice in 2008 and 2009 that left 75 people dead.

Image: Afghan security forces take position at the scene of an attack on the Indian consulate in Herat province. Photograph: Mohammad Shoib/Reuters