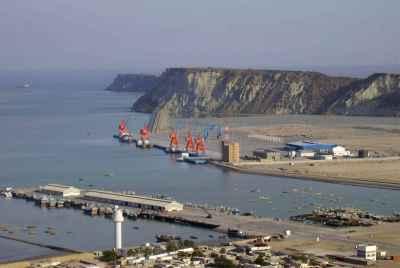 India on Monday voiced its concern to China over its plan to build a multi-billion dollar Economic Corridor to Pakistan through POK, even as it assured Beijing of its commitment to consolidate strategic bilateral ties.
"We have raised this issue and raised our concerns not (only) this time, we have made them known earlier. They have noted our concerns," Foreign Secretary Sujatha Singh told reporters in Beijing after holding the sixth round of Strategic Dialogue with her Chinese counterpart Vice Foreign Minister Liu Zhenmin.
The talks were held as the long-running Lok Sabha elections, hailed as the world's biggest democratic exercise, got underway in India that will form a new government at the Centre.
Asked whether the issue figured in the talks on Monday, she said it was raised this time too.
The corridor connecting China's Xinjiang with Pakistan's Gwadar Port with rail and road links raised concerns in India as it is being built through Pakistan Occupied Kashmir.
China argues that it would help redress the backwardness of the region.
The two sides held most cordial discussions enhancing the scope of the relations which in recent years showed steadfast increase.
On the border dispute, Singh said it figured but at the same elaborated that the issue is being discussed in detail by the Special Representatives who have held 17 rounds of talks.
Singh, in her opening remarks, said: "My visit here today is to reiterate to the government of China that the government of India attaches the highest priority to India's relations with China.
"We are committed to consolidating our strategic and cooperative partnership for peace and prosperity. The core of our vision is of a good neighbourly relationship based on mutual trust and understanding and where we are sensitive to each other's concerns and aspiration."
"As our Prime Minister (Manmohan Singh) articulated on several occasions, there is sufficient space in the world for both India and China to meet their developmental aspirations within our respective processes of economic and social development there is great scope for bilateral cooperation," Singh said.
Stating that the annual Strategic Dialogue is being held in less than a year, she told Liu that "it is symbolic of the fact that our interactions are increasing".
China said it was "confident" that India will stay committed to strong bilateral ties irrespective of whichever party comes to power after the polls.
Singh later called on Chinese Foreign Minister Wang Yi late in the evening and held 40-minute-long talk with him.
During the strategic talks, both sides expressed their confidence about the continuation of close bilateral ties irrespective of whichever party comes to power in India after the polls.
Asked whether change of government in India after the polls would impact the relations, Singh said during her interactions with the Chinese think tanks as well as Liu she stressed about the continuity of the relations.
"We have seen the continuity in India's China policy going back to Rajiv Gandhi's historic visit in 1988" to Beijing, she said, adding that since then the relations have been on a forward trajectory.
Asked whether she had any interaction with political parties back home before coming here, she said "they are all busy canvassing in elections," and pointed to the ink on her finger.
Pressed further on this issue she said "isn't it all known. Don't we have a fair idea whether the political parties want to increase their relations with China or not. I think there is broad consensus in that direction," she said.
China said it was "confident" that India will stay committed to strong bilateral ties irrespective of whichever party comes to power after the polls.
"We are confident that to promote China-India friendship is a shared consensus of all political parties in India.
"So I am confident that whichever party comes into power in India, it will stay committed to friendship and cooperation between the two countries," Liu said.
Liu, in his opening remarks, appreciated the timing of the talks between the two foreign ministries, terming the Indian general elections as "very important".
Singh said the two sides today had a three-and-a-half hour talks.
"The talks are very useful and very fruitful. It gives the sense of the breadth and depth of the relationship," she said.
The issues which figured in the talks included high-level exchanges, year friendly exchanges, 60th anniversary of Panchasheel, trade and economic issue, the need to promote investment from both countries, infrastructure, high speed rail networks, cultural exchanges and visa regime.
"It is very satisfying, very good talks as the two sides made measured progress on several fronts," she said.
Image: A general view of Gwadar Port in Pakistan
Photograph: Reuters