Opposition parties in Uttar Pradesh raised questions on the killing of gangster-turned-politician Atiq Ahmad's son Asad and his aide in a police encounter in Jhansi on Thursday and demanded a high-level probe to bring out the facts before people.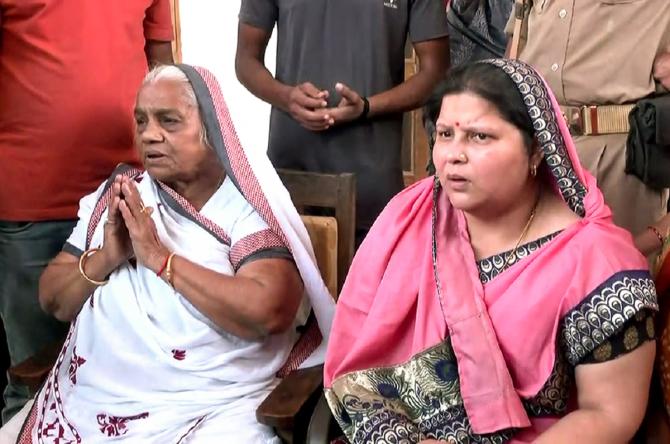 SP chief Akhilesh Yadav alleged that the Bharatiya Janata Party government was trying to divert attention from real issues with "fake encounters" and Bahujan Samaj Party supremo Mayawati said the killing could be a repeat of "Vikas Dubey incident".
Deputy Chief Minister Keshav Prasad Maurya, on the other hand, congratulated the UP police on the action.
"Nobody will touch you if you don't commit a crime. And nobody will be spared if they commit a crime," Maurya told PTI.
He asserted this was a BJP government and not a Samajwadi Party regime that criminals would be spared.
Within hours of the killing of Asad and his aide Ghulam, both wanted for the daylight murder of Umesh Pal and his two security guards in Prayagraj in February, Yadav suggested the police encounter could be "fake".
"By doing fake encounters, the BJP government is trying to divert attention from real issues. The BJP does not believe in courts at all. Today's and other recent encounters should be thoroughly investigated and the culprits should not be spared. The government does not have the right to decide what is right or wrong. The BJP is against brotherhood," the Samajwadi Party chief said in a tweet in Hindi.
Shortly thereafter, Mayawati too demanded an investigation as "many types of discussions" are happening.
She also linked the police encounter to notorious gangster Vikas Dubey's killing in July 2020.
Dubey, who was wanted in connection with the ambush-killing of eight policemen in Kanpur, was shot dead when he tried to escape police custody while being brought to UP from Ujjain in Madhya Pradesh.
The police said Dubey's vehicle had overturned during the transit and he had snatched a police official's gun.
"Many types of discussions are happening on the killing of Prayagraj's Atiq Ahmed's son and one other person in a police encounter today. People feel their apprehension of a repeat of the Vikas Dubey incident has come true. Therefore, a high-level inquiry is necessary so that the complete facts and truth of the incident can come before the public," Mayawati, the Bahujan Samaj Party supremo, said.
Both Asad and Ghulam were on the run since the killing of Umesh Pal, a key witness in the 2005 murder of then BSP legislator Raju Pal. Umesh Pal's wife Jaya had alleged in a police complaint that Atiq Ahmad, his brother Ashraf, son Asad, their accomplice Ghulam and others were behind the killing.
Umesh Pal's family thanked Chief Minister Yogi Adityanath and the police.
"Whatever they have done is right. He (the CM) has punished the killer of his daughter's husband. I express my gratitude. He is like a father. Justice has been done," Jaya Pal told the media.
She hoped strict action would be taken against the other accused.
"I leave that (action) to the government. The government is giving me justice," she added.
Umesh Pal's mother said the two gunners (Asad and his aide) had "committed a sin".
"They have been punished today. We have faith, we will get complete justice," she added.
The police encounter happened on a day Ahmad, the 60-year-old former Samajwadi Party legislator, was brought to Prayagraj from the Sabarmati Jail in Gujarat for hearing in a court.
This was the second time in a month that Ahmad was brought to UP via road for hearing in criminal cases related to the kidnapping and murder of Umesh Pal. On Thursday, he and Ashraf were sentenced to five-day police custody in the murder case.
Following the killing of Umesh Pal, Yadav had tried to corner Chief Minister Yogi Adityanath and raised questions over law and order in the state. Adityanath had then retorted to Yadav, blaming his party for "nurturing" criminals. The chief minister had also vowed to "destroy" the mafia in the state.
"The mafia whose name is emerging...is it not true that the Samajwadi Party had made him an MP... He was a mafia nurtured by the SP. Our government is working to break their back. 'Mitti me mila denge' (We will destroy the mafia)," Adityanath had said in the assembly.