'Star campaigner' to address election meetings in poll-bound Chhattisgarh, MP, Rajasthan.
Virendra Singh Rawat reports from Lucknow.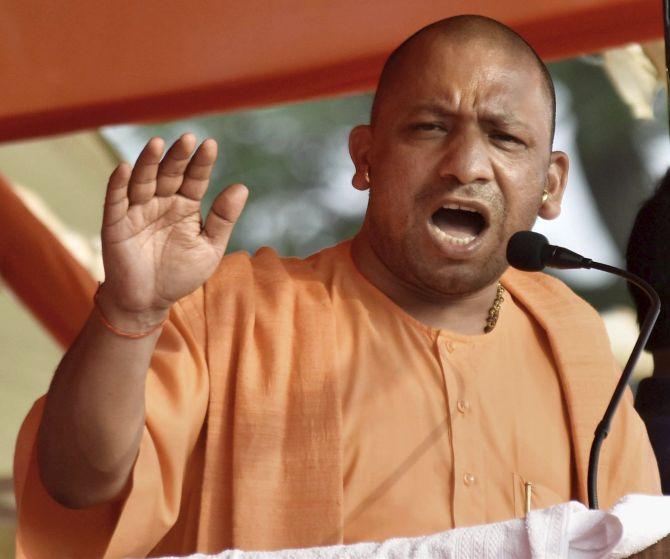 With the assembly poll bugle having been sounded for five states, Uttar Pradesh Chief Minister Ajay Singh Bisht -- also known as Yogi Adityanath -- will lend firepower to the Bharatiya Janata Party arsenal in the poll-bound states to either fight anti-incumbency or gain fresh ground.
Bisht has been selected as one of the party's star campaigners, especially the Hindi-speaking states of Rajasthan, Madhya Pradesh and Chhattisgarh, where the BJP is up against united Opposition coupled with strong anti-incumbency.
On October 6, the Election Commission had announced dates between November 12 and December 7 for the high-stakes poll battle between the BJP and Congress in these states. The other two poll bound states being Telangana and Mizoram.
The BJP has been in power in MP and Chhattisgarh for three consecutive terms while Rajasthan witnesses alternative rules by the two parties every election. Counting of votes in all the states will be held on December 11.
Recently, a meeting was held at Bisht's 5, Kalidas Marg residence in Lucknow to discuss and finalise the roadmap for his election meetings in the poll bound states, especially the three northern provinces.
While UP's two deputy CMs -- Keshav Prasad Maurya and Dinesh Sharma -- will also address public meetings in these states, Bisht holds the crux in the high voltage canvassing in the backdrop of the Congress trying to play out these assembly polls as a semi final for the 2019 Lok Sabha poll, when Prime Minister Narendra Damodardas Modi would himself seek re-election.
TheBJP hopes to cash in on Bisht's strong Hindutva image in the Hindi speaking belts apart from his strong oratorical skills to draw crowds to his meetings and try to consolidate the vote bank before actual voting takes place.
The soft Hindutva line being craftily created by the Congress in recent months has further put pressure on the BJP to match up with the grand old party in holding on to the traditional vote banks.
According to a senior party leader, Bisht figures on the top of demands by the BJP leaders in these states to address rallies and consolidate the electorate in the favour of the saffron outfit.
After taking over as UP CM, Bisht has gradually emerged as a star campaigner for the BJP and was deployed for the Himachal Pradesh, Gujarat, Tripura and Karnataka polls with dozen of rallies in these poll-bound states.
His engagement in Telangana and Mizoram would be finalised after consultation with the central leadership.
In recent assembly polls, Bisht had consistently ranked third after Modi and BJP National President Amit Anilchandra Shah in popularity of demand by the candidates for canvassing in their support.