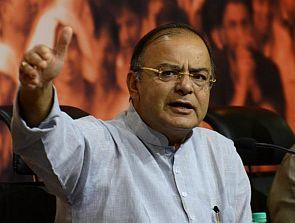 Slamming the Aam Aadmi Party for making "unrealistic promises" during elections in Delhi, the Bharatiya Janata Party on Monday challenged it to form a government with Congress support instead of avoiding power and fulfil its "exaggerated and unimplementable" manifesto.
On his latest Facebook posting, leader of the oposition in Rajya Sabha Arun Jaitley sought to know if the AAP is merely a "freak phenomenon" or will be a lasting experiment.
He said no clear answers could be given at the moment. "This party is unconventional. It has attempted to exploit the general mood of cynicism. It has made unrealistic promises and does not want to sit in a position of responsibility where it has to walk its talk," Jaitley said.
AAP's impressive performance in the Delhi elections came as a surprise to the BJP and the Congress. It emerged as the second largest party with 28 seats in the 70-member a assembly.
The BJP got 31 and its ally Shiromani Akali Dal won one seat.
"The very suggestion of being in the government to implement its policy and promises appears to be scary for this party. In a democracy, the voters vote in order to elect the government," Jaitley said.
Throwing a challenge to the AAP and the Congress, he said in the absence of clear majorities, forming a government is the art of the possible and the Congress can extend its outside support to the AAP.
"In power, such a party (AAP) would be like a fish out of water. It is possible to make exaggerated promises, and capture the imagination of a few by making unimplementable
promises. The strategy of the party is to avoid power rather than be in a position to implement the unimplementable," Jaitley said.