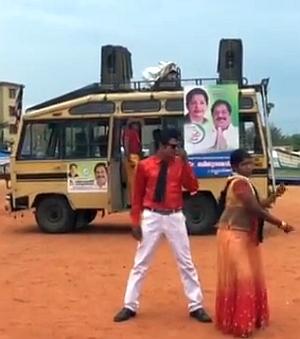 Saisuresh Sivaswamy/Rediff.com encounters 'MGR' on the Thiruvananthpuram beachfront seeking votes.
That elections in India are a colourful affair is a given. Candidates go to any extent to ensure they grab the voter's attention.
Liquor baron Biju Ramesh is contesting the Kerala assembly election from the Thiruvananthapuram constituency on an AIADMK (yes, that's right, AIADMK in Kerala!!) ticket.
Ramesh's campaign has cut-outs of AIADMK supremo J Jayalalithaa aka Amma and her mentor, the late Tamil movie superstar MGR who ruled Tamil Nadu for 11 years.
What really draws the attention of voters in this high-profile constituency is a dancing troupe -- a man dressed up as MGR and a woman who has far from perfected her moves -- gyrating to hits from the MGR movies.
Soon an announcement follows: Vote for Dr Biju Ramesh, the AIADMK candidate for the Thiruvananthapuram assembly seat.
Ramesh, by the way, is the working president of the Kerala Bar Owners Association and was in the news some weeks ago for his alleged payment of a bribe of Rs 1 crore on the association's behalf to renew licences of all those bars forcefully shut down by Oommen Chandy's government.
Video: Saisuresh Sivaswamy/Rediff.com