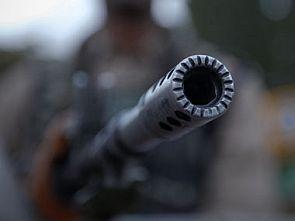 A militant belonging to the outlawed National Democratic Front of Bodoland led by Sangbijit or NDFB(S) was lynched and another seriously injured by a mob at Singimari in western Assam's Goalpara district on Tuesday.
Police informed that two militants had come to extort money from a local resident at Singimari area in Goalpara district. The agitated locals nabbed the militants and severely beat them up killing one on the spot and leaving another badly injured. The latter was rescued by the police. The locals also tried to torch the motorbike of the militants.

Fed up with the highhandedness of the insurgents, especially those from a breakaway faction of the National Democratic Front of Bodoland, people in certain parts of Assam have come out in the open denouncing the rampant extortion bids by the ultras.

In another incident, three persons were injured when police resorted to lathi charge and blank fire firing to control mob that attacked a group of NDFB (S) ultras who were trying to disrupt a protest rally against Bodo tribe ultras at Parbajhora area under Kokrajhar district of Bodoland Territorial Autonomous District Council (BTC) in the state.

Police informed that a group of suspected NDFB (S) militants stormed into the rally with an intention to disrupt it. That caused tension at the venue and led to clashes between the two groups.