China violates agreement, didn't share Brahmaputra hydrological data.
Archis Mohan reports.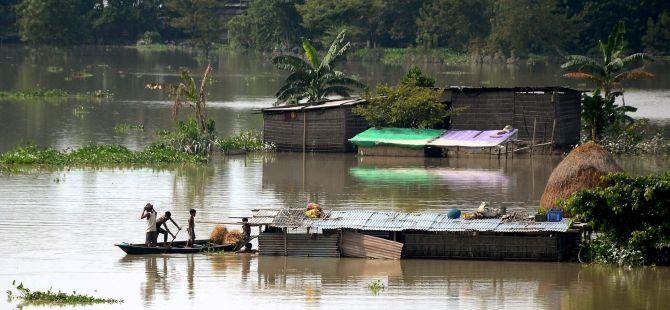 IMAGE: Flood-affected villagers relocated to safer places in Assam's Morigaon district. Photograph: PTI Photo
With over three million people affected across 24 districts in Assam because of floods, India stated that China has not shared hydrological data with India during the current monsoon season.
Under a 2006 agreement, China shares hydrological data, from May 15 to October 15, for the Brahmaputra and Sutlej rivers every year.
The ministry of external affairs, however, said it would be 'premature' at the current juncture to connect China not sharing hydrological data as a fallout of New Delhi and Beijing's military standoff in Doklam.
The last meeting on the issue between the two sides was in June 2016. MoUs (Memorandums of Understanding) were also signed in 2013 and 2015.
"China has to share the data periodically, even daily during the flooding period. But no data has been shared by the Chinese side this year," MEA spokesperson Raveesh Kumar said.
Data has not been shared could be to do with 'technical issues', and that it would be 'premature' and 'not reasonable' to link the development to any other issue, Raveesh Kumar added.
The flooding in the Brahmaputra originates in China.
Beijing as the upper riparian state needs to share hydrological data with India.
The flooding has wreaked some of the worst damage of the last few decades.