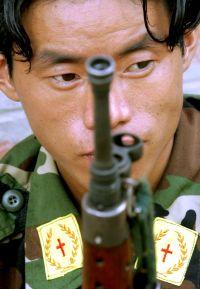 A bandh called by All Bodoland Minority Students' Union and eight other non-Bodo organisations in protests against killing of at least eight innocent non-Bodo persons by Bodo militant group National Democratic Front of Bodoland (Sangbijit) since Friday has night paralysed life in the violence-affected Bodoland Territorial Autonomous District Council areas in Assam on Monday.

Meanwhile, Army and the Police have geared up counter-insurgency operation against the National Democratic Front of Bodoland-Sangbijit under the unified command to prevent ultras from striking more terror.
Inspector General of Police S N Singh informed that Assam government had sought for 15 additional companies of paramilitary forces to augment counter-insurgency operations in BTC areas.
The state police has released photos of several wanted leaders of the NDFB-S including its chief Sangbijit and announced monetary award of Rs five lakh to Rs 10 lakh on authentic information on their locations.
The ABMSU criticised the Tarun Gogoi led Assam government for failing to protect lives of non-Bodos especially Muslims living in the BTC areas, where the NDFB-S terrorists are on the rampage.
Meanwhile, the NDFB-S in a statement e-mailed to the media on Monday stated that its patience was tested by the India security forces which had resorted to killing of innocent Bodo youths in 'fake encounters'.
The NDFB-S threatened more strikes if the "killing of Bodo youths in fake encounters" was not stopped. The outfit said that the attacks were in retaliation to the excesses of the security forces.
"The civil society, instead of condemning us, should put pressure on the government to stop the killing of Bodo youths," the statement said.
Meanwhile, the Kokrajhar police on picked up 34 persons in connection with the killing of five bus passengers by armed terrorists in the district on the night of January 17.