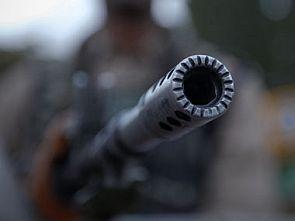 An Additional Superintendent of Police was killed and five other policemen were injured, three of them seriously, in an ambush by militants belonging to National Democratic
Front of Bodoland-Sangbijit at Batachipur near Dhekiajuli town in Sonitpur district of north Assam at around 8.00 on Tuesday morning.
The police informed that the police team led by ASP Gulzar Hussain was coming back from an area close to India-Bhutan border after arresting an NDFB-S linkman, L Nag, when the militants ambushed the vehicles of the police team.
Hussain was killed and five other policemen injured. The injured were identified as Umakanta Bailung, Pinku Nath, Rubual Bora, Hiraj Bharali and Janak Basumatary. The first three persons were seriously injured and shifted to the GuwahatiMedicalCollegeHospital for better treatment while the rest two injured were admitted to the government civil hospital in Tezpur.
Superintendent of Police of Sonitpur district, Sanjukta Parashar informed that the operation would be intensified against the NDFB-S militants.
"The unfortunate incident occurred because policemen are going all out against the militants. We are going to intensify the operation against militants," the SP said.
A senior police official informed that Hussain was a very efficient officer who had carried out many successful police operations against militants in the past. He is survived by his wife and two children.
Meanwhile, two more companies of Border Security Force personnel have been deployed in the troubled Sonitpur district of Assam in the wake of the ambush.
The NDFB-S has been on an rampage in north Assam areas especially in areas close to Assam-Bhutan and Assam-Arunachal Pradesh boundary areas.
Meanwhile, B R Ferenga a spokesman of the NDFB-S has claimed responsibility of the ambush.