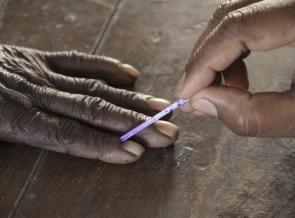 The Lok Sabha elections are likely to be held in six phases with the first phase to be scheduled for mid-April, sources tell rediff.com.

The first phase of the general elections may be held on April 16 or 18. The elections will continue till mid-May, they add.
The Model Code of Conduct for the Lok Sabha polls will come into force from the first week of March soon after the vote-on-account is passed by Parliament.

The term of the 15th Lok Sabha ends on May 31.

The Election Commission has begun preparations for the polls in full swing.
It has scheduled a meeting of all political parties in Delhi in the first week of February to get their views on the polling dates.
The poll panel will also hold interactions in mid-February with chief secretaries and directors general of police to identify suitable dates keeping in mind school and college examinations.

The EC will also hold a special meting with the chairman of the railway board in the third week of February. Inputs from the meteorological department on weather conditions in the country will be taken.

Union Home Secretary Anil Goswami and chiefs of central police organisations like the Border Security Force, Central Reserve Police Force and the Indo-Tibetan Border Police will also hold meetings with the EC.

The 16th general elections will elect 543 members. For the 2014 elections, 780 million people are likely to cast their vote at over 800,000 polling booths, using over 1.18 million electronic voting machines.
The general elections will be held in multiple phases and be completed in time to constitute the 16th Lok Sabha by June 1, Chief Election Commissioner V S Sampath had said in December.