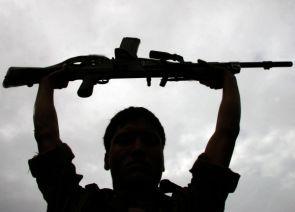 A cache of arms and ammunition was recovered after a prolonged gunbattle between security personnel and Maoists in naxal-affected Kondagaon district of Chhattisgarh, police said on Friday. The exchange of fire took place in Chhote Usri's Patelpara forest under Mardapal police station limits Thursday evening, Kondagaon Additional Superintendent of Police Surjit Atri told PTI.
Acting on a tip-off, a joint party of Central Reserve Police Force and district force was mobilised for an area domination operation in Mardapal forests located around 300 km away from Raipur on Thursday morning.
On sensing security forces near Kakda Beda forest of Patelpara area, about 25 armed naxals led by self-styled naxal commander of Mardapal LOS (local operation squad) Kosa, opened indiscriminate firing on them.
After security forces launched retaliatory attack, naxals fled into the jungles, he said.
Following the encounter, a search operation was launched in the region during which five muzzle-loading guns, explosives and commodities of daily use of naxals were seized, he said.
Though no casualty was reported during the encounter, he said some of the rebels could have suffered injuries.
Soon after the incident, additional forces were rushed to the spot, he added.