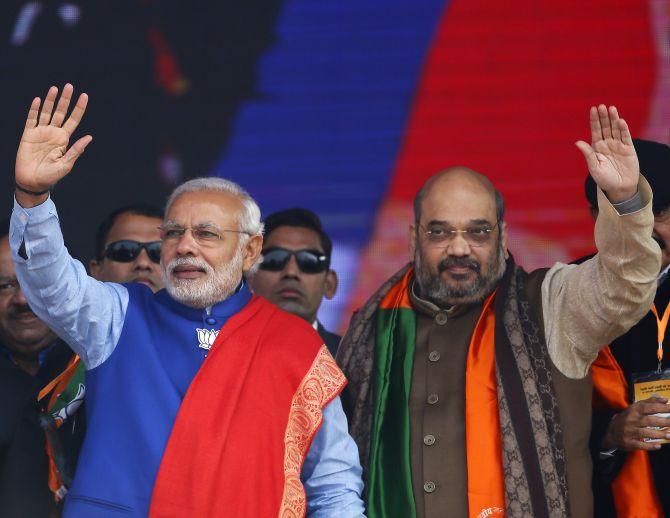 The Bharatiya Janata Party on Tuesday rejected its member of Parliament from Begusarai Bhola Singh's criticism of the top party leadership, including Prime Minister Narendra Modi, and asked its leaders to observe 'restraint' as rumblings within the party continued over its Bihar debacle.
"The party rejects Singh's criticism. We appeal to all party leaders to observe restraint," BJP secretary and its media department in-charge Shrikant Sharma said in New Delhi.
Modi and BJP chief Amit Shah on Tuesday came in the line of fire with Singh, a party veteran from Bihar, accusing them of injecting communalism in a campaign that, he said, should have been about the state's development.
Refuting Singh's charge, BJP said it has been ruling maximum number of states and has more MLAs today under Modi's and Shah's leadership than any other party.
"We are proud that under Modi's leadership we are running maximum number of state governments and have more MLAs than any other party," Sharma said.
He said the party had won local elections in seven states under the current leadership, a reference to Shah's stewardship, besides winning assembly elections in Maharashtra, Haryana, Jharkhand and Jammu and Kashmir.
Modi has enhanced India's prestige world over and his handling of the economy had earned him praise from every where, he said.
He reiterated that the party lost in Bihar because the "social arithmetic" in favour of the grand alliance led by Nitish Kumar and Lalu Prasad was bigger than the NDA.
Besides sulking MPs like Shatrughan Sinha and R K Singh, other MPs like Hukumdev Narayan Yadav have criticised party's tactics. However, Singh is the first leader to directly attack Modi and Shah.