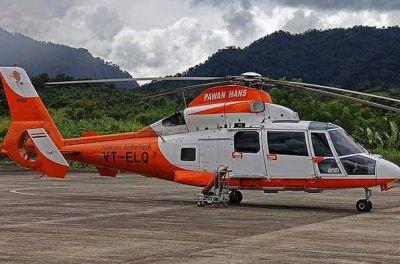 A helicopter of state-run Pawan Hans with four persons on board including a including a deputy commissioner on Tuesday went missing for a while before being spotted in a dense forest.
The chopper had taken off from Tirap district in Arunachal Pradesh.
The Dauphin N3 helicopter lost touch with the Air Traffic Control after taking off at around 11 am, company sources told PTI.
A "helicopter-like object" was later "sighted" in the dense jungles near Deomali area in Tirap district, Chief Secretary Ramesh Negi said quoting army sources, adding that the security personnel were unable to reach it due to inclement weather and hostile terrain.
The Dauphin twin-engine helicopter of the state-run Pawan Hans had on board the deputy commissioner of Tirap, Kamlesh Kumar Joshi, two pilots and a crew member when it went missing at 11.15 am.
It took off from Naharlagun helipad near Itanagar to Mohanbari in Dibrugarh, Assam at 8.40 am. From there, it headed to Khonsa in Arunchal Pradesh.
The chopper took off from Khonsa with Joshi on board at around 10.30 am and was on its way to Longding and Changlang when it went missing. The Air Traffic Control lost touch with the helicopter since 11.15 am, officials said.
"The three DCs of Tirap, Changlang and Longding were scheduled to board a flight from Mohanbari airport in Assam to New Delhi later in the day to attend an important meeting convened by the Home Ministry," District Information and Public Relation Officer D Bosai said from Khonsa.
Three columns of Army along with state police and Assam police are on search and rescue operation, the chief secretary said.
A blast was heard near Kalagaon and Lamlou villages in the district, Bosai said quoting villagers. It was foggy weather in the area, he said.
"We are monitoring the situation and are in constant touch with the Army," Negi said.