Non-stop torrential rains since Monday night pounded several parts of Chennai and its suburbs and Puducherry triggering a deluge completely disrupting normal life as army and navy were deployed tonight in two suburban areas to undertake rescue on a war footing.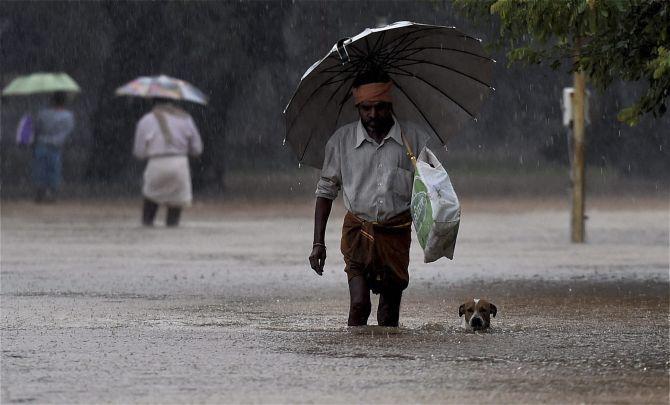 Citizens of Chennai had to face considerable strife in these past hours and if the IMD predictions come true their woes are not yet over. Photograph: PTI
Two columns of army's Garrison Infantry Battalion have been pressed into service in Tambaram and Oorapakkam after the Tamil Nadu government sought military assistance. The Navy is also on stand-by.
"More army personnel are coming to Chennai from Bengaluru," a Defence Public Relations official said adding "they have already left for Chennai."
Navy personnel were deployed in Sadiapet area of Chennai to rescue people marooned in low-lying areas.
All flight operations at Chennai airport were suspended tonight.
Met office has said that the weather patterns are due to a slow moving depression over southwest Bay of Bengal. Photograph: PTI
11 foreign and 9 domestic flights from the airport were put on hold as no landing or take-off was allowed till late in the evening. Officials said they might review the decision at midnight to take a call on resuming operations.
A senior airport official said while the runways were free of water logging, they suspended flight operations as a precautionary measure following waterlogging in some other areas, adding, they did not want to take a chance.
The rainfall measurements have broken a 100-year-old record. Photograph: PTI
The rains that have virtually broken a 100-year-old record with one day's rainfall covering a month's average also flooded areas in Vadapalani, Valasaravakkam and Nandamvakkam as nearby lakes overflowed into the city.
Adding to the woes, Chennai city and neighbouring districts braced for more rains as the Met deparment predicted heavy to very heavy rains in the next four days.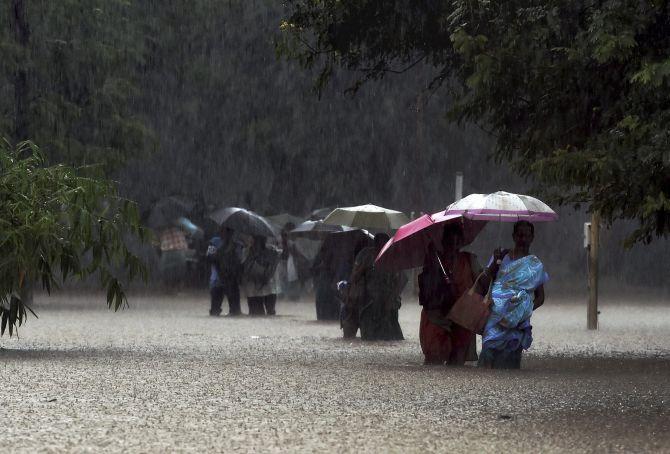 The heavy rainfall over the last 24 hours left several areas inundated

. Photograph: PTI
Most areas of Chennai, which have already been lashed by rains for over a fortnight, went under water on Tuesday severely disrupting train and bus services and forcing postponment of half-yearly school exams and closure of schools in Chennai, Kancheepuram and Tiruvallur districts.
A large part of the road near Madhya Kailash temple in the heart of the city in an area that connects the IT corridor, caved in resulting in a huge crater and disrupting traffic.
Even in hitherto unaffected areas, people complained that water entered their homes and roads flooded with surging waters. Several areas in the city went without power as supply was cut as a safety precaution.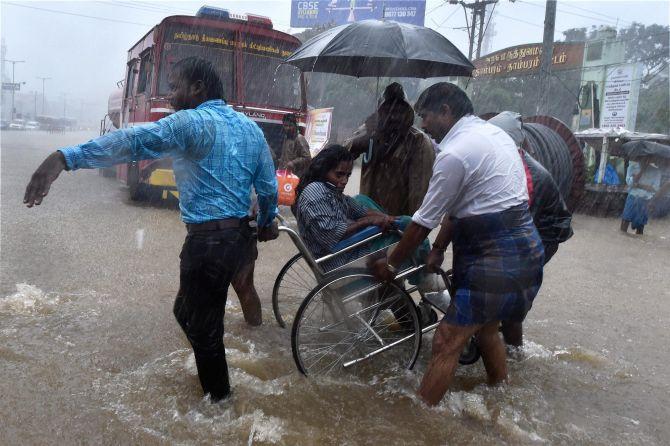 Patients being shifted from a flooded hospital after heavy rains in Chennai on Tuesday. Photograph: PTI
The situation has worsened in suburban areas of Tambaram and Mudichur after the Chembarakam lake overflowed and an unprecedented 26,000 cusecs of water was being released flooding the downstream areas. These areas had already suffered heavily during the earlier spells of rains.
National Disaster Rescue Force has already despatched ten teams of which four are already in Chennai and the rest will be flying in on Wednesday. "At the same time, we are also requisitioning teams from Bengaluru and Andhra Pradesh," NDRF chief O P Singh said.
Rescue work will begin and NDRF would deploy more teams if required. Teams carrying boats will also be sent to Kancheepuram and Tiruvallur districts.