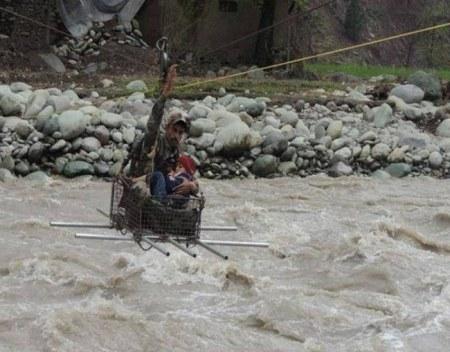 Polio patients Imtiyaz and Ulfat, and Priya, suffering from nervous disorder, have all the reasons to thank the army for their treatment and recovery. The timely help by the army came as a blessing to the patients, who live in the remote Dharmund area of Jammu and Kashmir, and are currently undergoing operation and recovery in Rajasthan.
"True to its people friendly image and unflinching commitment towards cause of the nation, Delta Force based at Dharmund took a noble initiative in Bahihal, in facilitating treatment of polio patients in association with a reputed non-governmanetal organisation, Narayan Seva Sansthan based in Udaipur (Rajasthan)," Jammu based defense spokesman Lt Col Manish Mehta said.
He said that last month the Delta Force had carried out an initial check-up and screening of suspected polio patients by the army medical team, followed by check-up at civil hospital Banihal.
"Three patients, Imtiyaz Ahmed, 22, Ulfat Bano,12, were diagnosed with polio while Priya Devi, 16, was diagnosed with nervous disorder," he said.
He said that on March 12, these three children along with their parents were sent to Udaipur (Rajasthan) by the army authorities for advance treatment at Narayan Seva Sansthan.
"The waiting period for such treatment is almost two years and as these patients were from very poor families and would have lost hope in the treatment due to the long waiting period and cost thereon. The Indian Army facilitated the treatment by approaching the concerned authorities on priority," he said.
He said the authorities accepted the request of the army and operated Imtiyaz Ahmad and Ulfat Bano.
"The two patients were operated for treatment of Polio. The third patient Priya Devi was diagnosed for nervous disorder which could be treated through physical exercises" he said.
He said these exercises were demonstrated and explained to her father and she too was later discharged. "The two patients who underwent the surgery have returned to their homes where they are recovering. The army is also providing them post-operation care as well," he said.
Image: An Indian Army soldier rescues a child at Chandik-Kalie bridge area, Poonch district of Jammu and Kashmir. Photograph: Indian Army's Favebook page