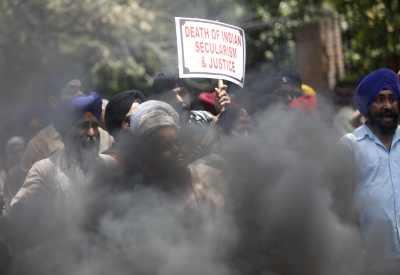 The Central Bureau of Investigation will challenge before the Delhi high court the acquittal of Congress leader Sajjan Kumar in a 1984 anti-Sikh riots case by a city court as it has found "strong grounds" which could form basis of its petition.
CBI sources said in New Delhi that the agency is likely to wait till the court pronounces its verdict on the quantum of sentence for those found guilty in the case.
District and Sessions Judge J R Aryan had on April 30 acquitted Kumar in the 29-year-old case in which he was accused of murder and of instigating a riotous mob that killed five Sikhs in Delhi's cantonment area.
Five others -- Balwan Khokkar, an ex-councillor, Mahender Yadav, an ex-MLA, Kishan Khokkar, Girdhari Lal and Captain Bhagmal -- were convicted for their involvement in the riots that had broken out after the assassination of the then prime minister Indira Gandhi on October 31, 1984.
Kumar, a former Lok Sabha MP from Outer Delhi who was refused a Congress ticket for 2009 Lok Sabha elections, still face trial in another 1984 rioting case. In a third case, the Delhi police have filed a closure report, saying there was no evidence against Kumar to implicate him.
CBI sources said the agency's legal department has studied the judgment and highlighted several strong ground on the basis of which it is likely to approach the Delhi high court challenging the acquittal of Kumar. His acquittal has led to protests by Sikh outfits in the national capital and in parts of Punjab. They said the CBI would approach the law ministry seeking its approval for initiation of the process of appeal in the high court to challenge the verdict.

Image: Sikh demonstrators shout slogans amidst the smoke rising from burning tyres during a protest against Sajjan Kumar's acquittal | Photograph: Mansi Thapliyal/Reuters