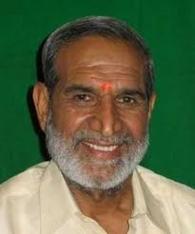 Angry protests erupted in Delhi and Jammu over the acquittal of Congress leader Sajjan Kumar in an anti-Sikh riots case with protesters blocking the Jammu-Kashmir Highway and Metro services in the capital.
Shouting slogans and carrying placards stating 'Hang 1984 Culprits' and 'Give us Justice', the protesters marched to Tilak Nagar police station in west Delhi and blocked traffic in the area.
A group of protesters entered the Subhash Nagar Metro Station in west Delhi and sat on tracks at around 12.45 pm disrupting the services.
As a precautionary measure, the Metro stations at Subhash Nagar and Tilak Nagar, where there is a considerable population of Sikhs, were closed for the public.
"After 30 years, we are yet to get justice. The government should feel ashamed. We will never forget and forgive who allowed the culprits get scot free. We want justice," one of the protesters said.
Kumar, a former Congress Member of Parliament, was acquitted by a Delhi court on Friday in one of the cases of 1984 anti-Sikh riots.
On Friday, a large number of people had gathered at the court complex and one of them had even thrown a shoe at the judge after the pronouncement of the verdict.
Sikh groups in Jammu held protests over the acquittal of Kumar and blocked the Jammu-Kashmir Highway.
Activists of several Sikh organisations, led by one Harjeet Singh, sat on a dharna and took out demonstrations at Digiana on the outskirts of the city. Raising anti-government slogans, the protesters termed the acquittal of the Congress leader as an "injustice" to the Sikh community in the country.
"Injustice has been done to us -- the judgement has shown that Sikhs are second class citizens of the country," Singh told reporters.
"As many as 3,000 Sikhs were killed on the roads of Delhi -- they were brutally murdered and their houses were burnt down," he said, adding that the judgement has shocked the entire Sikh community, who were hoping for justice.
"We will fight back. We want justice. We don't have any faith in the Congress government," he said.
In Talab Tiloo area of Jammu, a group of Sikh youth held demonstrations against the acquittal of Kumar.
"Hearts of all Sikhs are weeping over the judgement," said Charanjeet Singh, a protester.