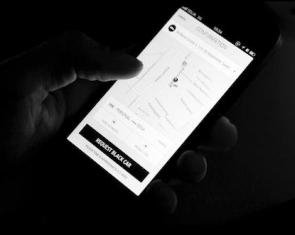 A week after a young executive was allegedly raped by Uber cab driver Shiv Kumar Yadav in New Delhi, Nidhi Shah, who lives in the United States has come forward, saying she had filed a complaint with the cab company against the same driver.
But no action was taken by Uber, she alleged.
Writing on Twitter, Shadh said that Yadav had made her feel uncomfortable during a ride on November 26 – just 9 days before the alleged rape.
Here are her series of tweets: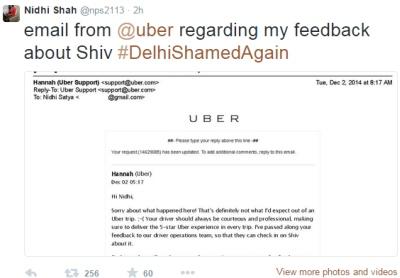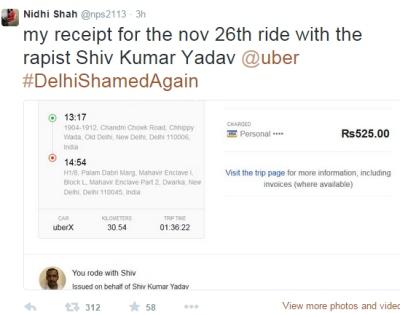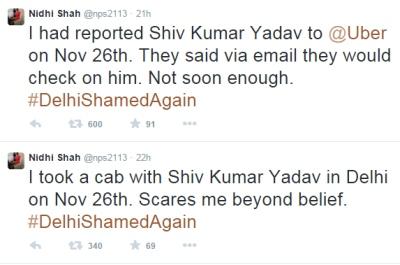 I had reported Shiv Kumar Yadav to @Uber on Nov 26th. They said via email they would check on him. Not soon enough," she said on Twitter. She also posted a receipt from the ride, and a response from the app-based cab hailing service.
The response from the company says, "Sorry about what happened! That's definitely not what I'd expect out of an Uber trip. L Your driver should always be courteous and professional, making sure to deliver the 5-star experience in every trip. I've passed along your feedback to our driver operations, so they can check in on Shiv about it."
Since Yadav's arrest, it has emerged that he has been accused of sexual offences in the past too.
Yadav, 32, had allegedly raped a woman in Mainpuri in Uttar Pradesh last year and was involved in at least two more cases including molesting another woman, investigators said.
On Monday, it emerged that Yadav was arrested in a rape case in South Delhi's Mehrauli area in 2011 and had even spent seven months in Tihar jail. He was however acquitted in the case.
Yadav was arrested for separate cases of molestation in 2003, under Arms Act in 2006 and rape and robbery in 2013 in Mainpuri, his home town.
Uber had around 4,000 drivers working for it in Delhi but the company had no idea whether any of them were verified by cops or had a Public Transport Vehicle (PSV) badge which is mandatory to drive any public transport vehicle in the city.
These startling revelations came to fore on Tuesday during the questioning of Uber's General Manager (Marketing) Gagan Bhatia by the Delhi police. This would mean further trouble for the company against which the police has registered a case under sections related to cheating and violating lawful orders against the App-based online booking company.
With inputs from PTI