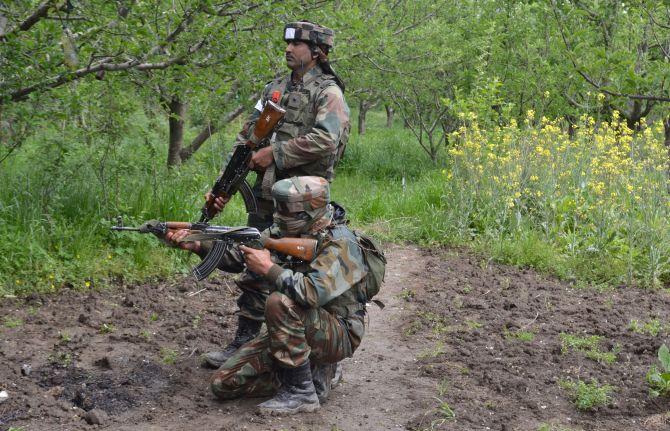 A terrorist was killed as the army thwarted an infiltration attempt along the Line of Control in Gurez sector of Bandipora district in north Kashmir.
An army official said the troops guarding the LoC observed movement of ultras trying to sneak into the valley from across the border and challenged them.
During the exchange of fire, a terrorist was killed, the official said.
With the latest operation, the number of terrorists killed in encounters along the LoC in north Kashmir in the past four days has gone up to 14.
An army jawan also lost his life in one of the encounters.
A defence spokesman on Thursday said multiple attempts made by Pakistan army to push armed infiltrators across the LoC were foiled by the troops at Machhil and Naugam sectors in Kupwara district, Gurez in Bandipora district and Uri in Baramulla, resulting in the killing of seven terrorist.
All the four infiltration bids were aided by the Pakistani forces who provided active support, including cover fire using heavy calibre artillery, the army's Northern Command had said in a statement.
With the killing of six terrorist in Uri sector on Friday and one in Gurez on Saturday, the army has foiled eight infiltration attempts in less than a fortnight in north Kashmir.
Three of the attempts were scuttled in Uri sector alone.
On May 26, the Army killed two Pakistani Border Action Team members who tried to infiltrate into Uri sector in Baramulla district to carry out an attack on the soldiers.
Six more terrorists were killed in the same sector the next day when they attempted to sneak into the valley from across the border.
This year, army foiled 24 infiltration attempts killing 41 armed intruders along the LoC.
One injured in firing on security vehicles in Kashmir
One person was injured when suspected terrorist fired at two vehicles belonging to security forces in south Kashmir's Anantnag on Saturday, police said.
Arif, who works for a construction company in Banihal, was behind the security forces when the firing took place. The gunfire missed the target but hit his car. He was injured too, a police spokesperson said.
"Arif, a resident of Bakshiabad, Anantnag, went to the public health centre in Vesu (in Anantnag) and reported that at around 5 am when he was on his way to Banihal unknown militants fired at two security vehicles which were moving ahead of his car," he said.
Arif's condition is slated to be stable, the spokesperson added. He has been referred to the SMHS hospital in Srinagar for specialised treatment.
About 20 empty cases of AK ammunition have been recovered from the spot, the official said.
A case has been registered and investigations have begun.