The death toll in the devastating earthquake that has rocked Nepal climbed to over 4,350 on Tuesday with more than 8,000 others injured, as Prime Minister Sushil Koirala admitted that the rescue and relief operations have not been effective.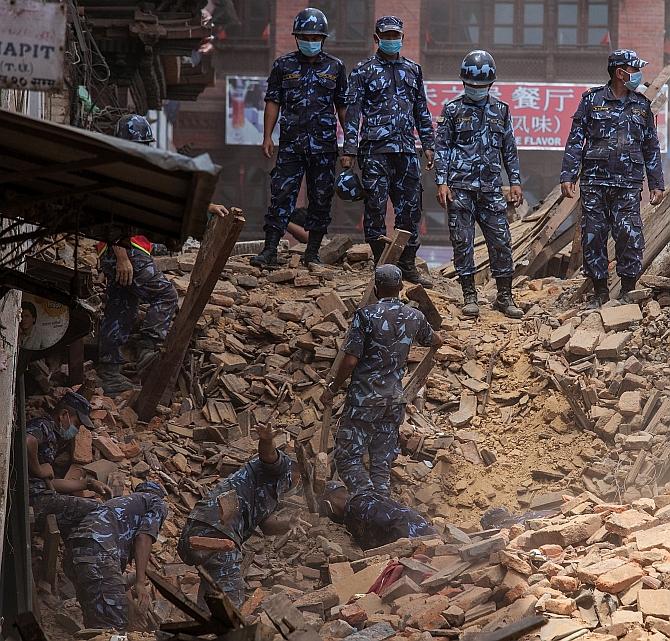 Rescue team members search for bodies in the debris of a collapsed temple at Basantapur Durbar Square. Photograph: Omar Havana/Getty Images
Crisis loomed over quake-hit Nepal with an acute shortage of food, water, electricity and medicines as fear of another quake kept tens of thousands of people out into the open.
At least 4,352 bodies have so far been recovered after Saturday's massive earthquake that struck just outside of capital Kathmandu, a Nepalese police official said. A further 8,063 people have been injured in the quake.
Hundreds of people are still trapped under tonnes of rubble in the capital Kathmandu and some of the worst-affected remote mountainous areas amid concerns that toll could cross 5,000 mark, authorities said.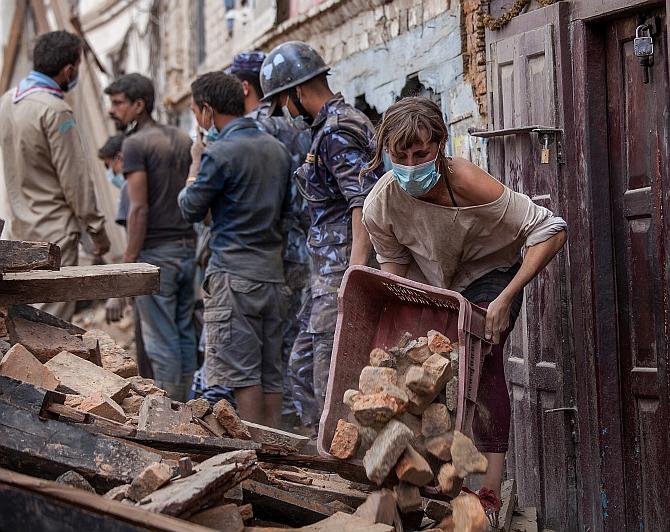 A foreign volunteer clears debris of a collapsed temple at Basantapur Durbar Square. Photograph: Omar Havana/Getty Images
The government has announced nine districts as highly-affected areas.
Based on human casualty, Sindhupalchowk, Kathmandu, Nuwakot, Dhading, Bhaktapur, Gorkha, Kavre, Lalitpur and Rasuwa have been declared as the most-affected districts.
The government has said that altogether 60 districts have been affected by the earthquake.
Of those killed in the earthquake, 923 are from Kathmandu, 240 from Bhaktapur and 157 from Lalitpur while the rest are from outside the Kathmandu Valley.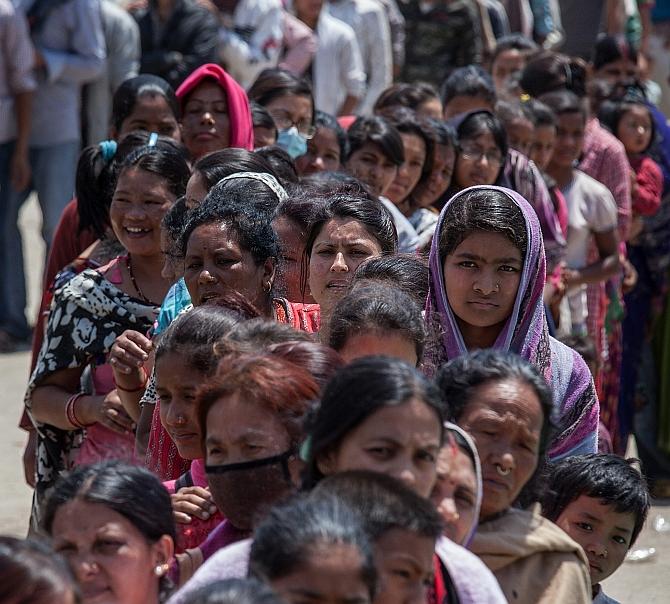 Residents line up for food in an evacuation area set up by the authorities in Tundhikel park, Kathmandu. Photograph: Omar Havana/Getty Images
Meanwhile, Prime Minister Sushil Koirala has admitted that the rescue, relief and search operations have not been effective. He has urged the political parties to work together in this national crisis.
Post-quake management is challenging, Koirala said in an all-party meeting organised on Monday by Constituent Assembly Chairman Subas Nembang.
The government is receiving requests from across the country for help, he was quoted as saying by 'My Republica'. It had been unable to extend rescue efforts to several places due to a crunch of logistics and experts.
The head of neighbouring India's National Disaster Response Force, one of the first foreign organisations to arrive in Nepal to help in the search and rescue effort, said finding survivors and the bodies of the dead would take time. NDRF Director General OP Singh said heavy equipment could not fit through many of the narrow streets of Kathmandu, Nepal's capital.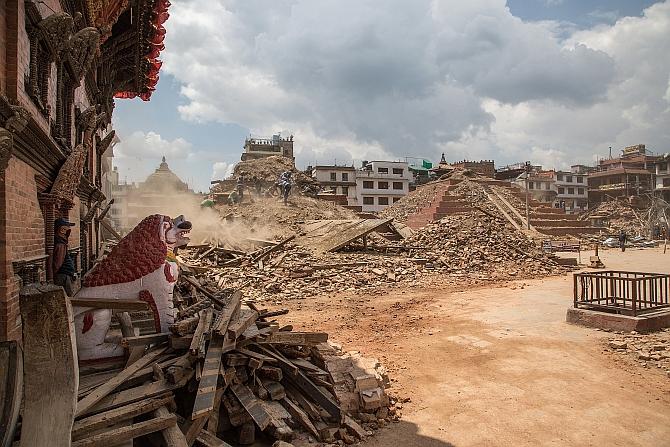 Volunteers and emergency workers search for bodies buried under the debris of the temples at Basantapur Durbar Square. Photograph: Omar Havana/Getty Images
The prime minister said the government was serious and sensitive about relief distribution and rehabilitation of the affected people.
The government was preparing to send tents, water, medicine, health workers and volunteers to the affected areas. The premier also appealed to the people to donate blood.
The quake that flattened homes and buildings and the subsequent powerful aftershocks have forced people out to live in the open under plastic tents, barely shielding them from cold and rains that have pounded the city.
With aid slow to reach many of the most vulnerable, some Nepalese were critical of the government.
"The government has not done anything for us," said Anil Giri, who, along with about 20 volunteers, was looking for two of his friends presumed buried under rubble.
"We are clearing the debris ourselves with our bare hands."