Radical preacher Amritpal Singh's aide and kidnapping accused Lovepreet Singh walked out of a jail in Amritsar on Friday, hours after a court in Ajnala ordered his release based on an application by the police.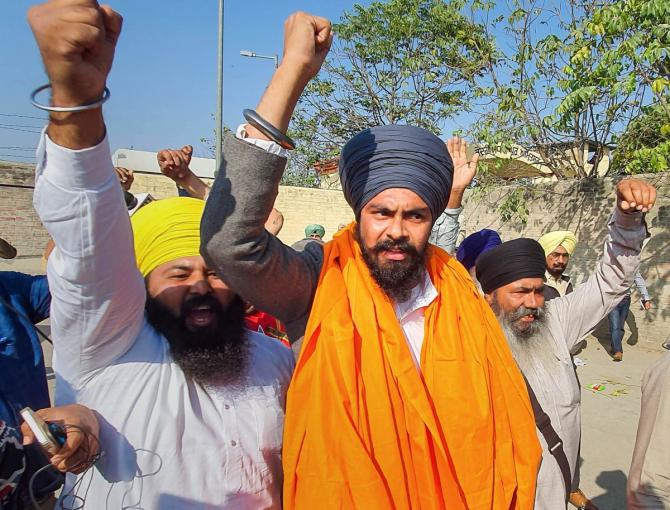 The development came a day after supporters of preacher and Khalistani sympathiser Amritpal Singh had stormed the Ajnala police station demanding the release of his aide.
Tight security was in place at the police station and in Ajnala town on Friday.
On Thursday, Amritpal Singh's supporters, some of them brandishing swords and guns, broke through barricades and stormed the police station complex.
The supporters had stormed the police station on the outskirts of Amritsar city demanding that Lovepreet Singh, alias Toofan, an accused in a case involving kidnapping, be released.
Three policemen were hurt during the clash, officials said.
Earlier in the day, a court in Ajnala ordered Lovepreet Singh's discharge.
A Punjab police DSP had moved an application before the court for releasing Lovepreet Singh from custody and from discharging him on grounds that he was not involved in the said case and not present at the time of commission of offence.
'Since the accused is no more required by the investigating officer for judicial custody, Lovepreet Singh is discharged from custody only and be released,' Manpreet Kaur, Sub Divisional Judicial Magistrate, Ajnala, said in her order.
VIDEO: Pro-Khalistan preacher storms Punjab police station complex with armed men
It is made clear that the accused Lovepreet Singh...is discharged from custody. A direction is issued to the SHO concerned to conduct investigation in the case and submit its report. Necessary intimation be sent to the Superintendent of Jail, Amritsar, in this regard,' she added.
Speaking to reporters in Ajnala, Amritpal Singh, who is often described as a Khalistan sympathiser and heads an organisation called 'Waris Punjab De', termed the release of his aide as a 'victory of the Panth'.
"He was put in jail in a false case," he claimed.
Amritpal Singh alleged that police had used force against some of his supporters on Thursday without any provocation.
"Yesterday's situation could have been averted had police listened to us. The consequences which arose were not created by me. Administration had sought time earlier, we gave them time till Wednesday. We came to Thursday here," he said.
"We have given enough evidence pertaining to Lovepreet and our innocence (in the case)," he said as a long cavalcade of vehicles led by him headed towards the Central jail Amritsar from Ajnala town to receive Lovepreet Singh and thereafter they would move to the Golden Temple to pay obeisance.
A case was registered against Amritpal Singh and his 30 supporters for allegedly kidnapping and thrashing Barinder Singh, a resident of Chamkaur Sahib in Rupnagar district.
Barinder Singh, in his complaint, had told police that Amritpal Singh's associates had allegedly abducted him from Ajnala and took him to an unknown place where he was brutally thrashed.
The case was registered against the accused under various provisions of the IPC including Section 365 (kidnapping), 323 (voluntarily causing hurt), 506 (criminal intimidation), 148 (rioting) and 149 (unlawful assembly).
Amritpal Singh had Thursday issued an "ultimatum" for the release of his supporter Toofan Singh.
Amritpal Singh's supporters, some of them brandishing swords and guns, broke though barricades and stormed the police on the outskirts of Amritsar city demanding that Lovepreet Singh be released.
Six policemen were hurt during the clash, officials said on Friday.
On Thursday, a large police force kept watch but refrained from taking any action as the preacher and other protesters stayed put at the Ajnala police station for hours.
Amritsar Police did not immediately make it clear whether any case had been registered against Amritpal Singh or his supporters over Thursday's violence.
A special investigation team has been formed to look into the incident.
Amritpal Singh and his supporters had also brought a vehicle carrying a copy of the Guru Granth Sahib for holding 'Amrit Sanchar' (a Sikh ceremony) at the police station.
'Waris Punjab De' organisation was founded by actor and activist Deep Sidhu who died in a road accident in February last year.