In the wake of Cyclone Amphan, train and flight services have been affected in West Bengal and Odisha.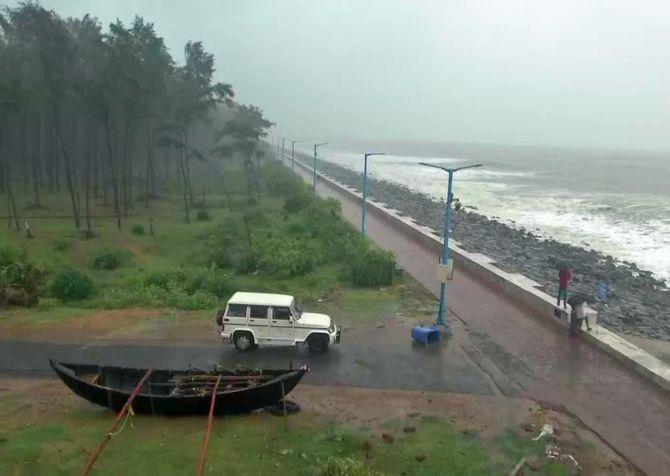 Cargo and evacuation flight operations at the Kolkata airport have been suspended till 5 am of Thursday due to the cyclonic storm 'Amphan', airport officials said.
The Eastern Railway has cancelled the departure of Howrah-New Delhi AC Special Express for Wednesday.
The departure of 02301 Howrah-New Delhi AC Special Express on Wednesday and 02302 New Delhi-Howrah AC Special Express on May 21 would remain cancelled, the ER said.
The AC Special Express train which left for New Delhi from Bhubaneswar on Wednesday will run on a diverted route skipping the Bhadrak-Kharagpr line, while goods traffic was affected.
The train took the diverted route of Sambalpur City-Jharsugud-Rourkela-Tatanagar instead of the normal route via Bhadrak-Balasore-Hijli Kharagpur-Tata, a railway official said.
Similarly, inward goods traffic was stopped to Dhamra Port. Outward goods traffic from Dhamra Port was also suspended after departure of the last goods train to Tatanagar on Tuesday.
Goods traffic is running almost normally on Bhadrak-Palasa mainline section until now.
Wind speed along and off the coastal areas of West Bengal will reach 75 to 85 kmph with gusts up to 95 kmph from Wednesday morning along and off districts of North and South 24 Parganas, East and West Midnapore, Kolkata, Howrah and Hooghly, Regional Met director G K Das said.
"It will gradually increase thereafter becoming 110 to 120 kmph gusting to 130 kmph over West Midnapore, Howrah, Hooghly, Kolkata and wind speed of 155 to 165 kmph gusting to 185 kmph over the districts of North and South 24 Parganas and East Midnapore of West Bengal from the afternoon to night of May 20," he said.
Under its impact rainfall will occur in most places over the districts of Gangetic West Bengal on Wednesday, with heavy to very heavy downpour with extremely heavy rain at a few places in Kolkata, Howrah, East Midnapore, North and South 24 Parganas and Hooghly districts, he said.
"Storm surge of 4 to 5 metres above astronomical tide is likely to inundate low lying areas of South and North 24 Parganas and about 3 to 4 metres over low lying areas of East Midnapore district of West Bengal during the time of landfall," he said.
The Indian Navy has dispatched a diving team for providing assistance to the West Bengal government in relief operations, a Defence official said.
The diving team from Vishakhapatnam has brought specialised equipment along with them which can be used for rescue in case of flooding and have been positioned at the Naval Service Selection Board at Diamond Harbour in South 24 Parganas district, the official said.