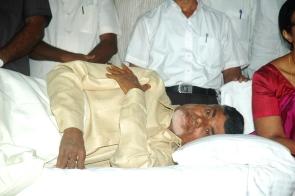 Amid high drama, Telugu Desam Party Chief N Chandrababu was on Friday forcibly evicted from Andhra Pradesh Bhavan in New Delhi by the police and taken to a hospital on the fifth day of his indefinite fast against bifurcation of Andhra Pradesh.
A team of doctors comprising a cardiologist, two physicians and four resident doctors at Ram Manohar Lohia Hospital are monitoring the condition of 63-year-old Naidu.
His health parameters are within "normal range" except that he is mildly dehydrated and ketons in the urine are 3+, they said.
"Ketone 3+ indicates that the body is drawing strength from the last of the calories reserved. We tried giving him intravenous DNS and vitamins but he refused saying that he wants to continue the fast," said Dr H K Kar, Medical Superitendent of RML hospital.
His blood pressure was 150/70, pulse 100 which is on the higher side, sugar 85, ketone 3+ and he is mildly dehydrated, Kar said.
Earlier, hundreds of slogan-shouting TDP workers resisted eviction of the protesting leader, jostling with around 50 policemen who had to use force to make their way towards the podium where Naidu was sitting. A heavily guarded ambulance, which was stationed at Andhra Pradesh Bhavan to ferry Naidu, was laid siege to by his supporters, including women cadre.
They raised slogans demanding justice and accused Congress party chief Sonia Gandhi for dividing the Telugu people in the name of Telangana. State government banners featuring Sonia Gandhi and Chief Minister Kiran Kumar Reddy were vandalised, slippers hurled and effigies burnt.
A portion of the pandal set up on the premises for the event was also pulled down by the irate TDP supporters. The police said 63-year-old Naidu, who was accompanied by TDP members of Parliament and relatives, was taken to RamManoharLohiaHospital.
Cops had a tough time during the hour-long operation on Andhra Pradesh Bhavan premises. Naidu was escorted to the ambulance by the policemen after which the women cadres blocked its way. Soon a large swarm of TDP workers joined them and the ambulance escorted by five police vehicles could move only after the policemen pushed them away.
The police changed the route of the convoy at the last minute to dodge Naidu supporters.